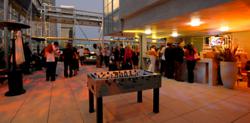 The residences at TenTen Wilshire offer luxury living and the perfect balance for living, working and playing in the heart of Los Angeles.
Los Angeles, CA (PRWEB) April 23, 2013
The staff at TenTen Wilshire today announced that they will be hosting monthly wine and cheese mixers for the Los Angeles business community. These networking opportunities will take place on the last Thursday of each month and will be held atop the 1010 Wilshire on its award winning rooftop. The wine and cheese mixers will showcase a number of Los Angeles small businesses and corporate concerns, allowing these companies to demonstrate their products and make the right connections in the business environment. Reservations for these events can be made via email at rsvp(at)1010wilshire(dot)com; free parking is available at 637 St. Paul Street. For more information on tables and activities at these wine and cheese mixers, businesses and individuals can contact neha(at)amidigroup(dot)com directly.
As one of the most prestigious addresses in downtown Los Angeles, TenTen Wilshire is an ideal location for these business get-togethers. It offers exceptional views of the surrounding cityscape to set the scene for networking or discussing the next great business deal. The rooftop lounge at TenTen Wilshire is widely known throughout Los Angeles for its glamorous vistas and exceptional party atmosphere. These wine and cheese mixer events are expected to provide outstanding opportunities for business leaders to meet and greet in a casual setting with elegant refreshments and amenities.
The residences at TenTen Wilshire offer luxury living and the perfect balance for living, working and playing in the heart of Los Angeles. On-site workout and health spa facilities and a rooftop pool and Jacuzzi make TenTen the ideal choice for relaxing and winding down after a hard day at work. The complex also boasts an in-house business center complete with copiers, scanners, fax machines, UPS and Fed-Ex drop boxes, an ATM and workstations with full computer access. High-speed wireless Internet service is available throughout the building, and residents have access to conference rooms for a wide range of meeting and teleconferencing needs. The furnished apartments and suites at TenTen Wilshire offer elegant and luxurious surroundings with amenities like private patios and balconies and large flat-screen television sets with free premium cable channels to provide an outstanding balance for life, work and play.
About TenTen Wilshire:
The premier luxury residence complex in downtown Los Angeles, TenTen Wilshire offers a wide range of amenities for its residents to help them make the most of living, working and playing in this glamorous city. With all the luxurious extras for entertaining and conducting business, TenTen Wilshire is the ideal solution for temporary and long-term executive housing in the Los Angeles area.