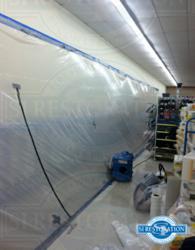 By using mold removal kits, homeowners are putting themselves at risk of making their mold situation far worse than it is.
Mount Laurel, New Jersey (PRWEB) April 16, 2013
Mold removal kits target desperate consumers looking to rid their homes of the dangers of mold exposure at an inexpensive cost. However, SI Restoration, an industry-leading mold remediation specialist with over twenty years of expertise, insists that risks are far too high for homeowners intent on removing the mold on their own.
Five Towns Patch explained in a recent report that a county in New York is supplying its Sandy victims with free mold removal kits. They briefly disclaim, "It is important to note that in some cases of mold cleanup, professional services may be required for successful remediation." SI Restoration provides Hurricane Sandy victims along the east coast with several tips on why DIY mold removal is not only unsafe and how it can actually allow mold to spread and grow stronger.
Amongst the company's list of mold remediation frequently asked questions are several reasons why specialists should always be called in to address mold growth in the home or office.
Professional remediation specialists are certified by the IICRC (Institute of Inspection Cleaning and Restoration Certification). The IICRC is a non-profit organization committed to setting high standards and ethics within the remediation community. These standards ensure the prevention of potential health hazards to people exposed to mold.
The most dangerous risk homeowners take when directly handling mold are encountering allergic reactions. Mold exposure can cause shortness of breath, eye irritation, skin irritation, high fevers and lung illness. People with immune deficiencies or sufferers of lung disease can experience worse side effects.
Another risk when approaching mold growth without following proper guidelines is spreading the mold colonies to other areas of the home. Mold protects itself by releasing thousands of spores at any given time into the air if it feels threatened. These spores can travel throughout the home, settling and colonizing in other rooms, on furniture, in carpeting and on other organic, porous material. Mold spores can even enter the ventilation and HVAC systems of the home, risking further depletion of a home's indoor air quality.
By using mold removal kits, homeowners are putting themselves at risk of making their mold situation far worse than it is. IICRC Certified technicians use proper personal protective equipment like ventilators, goggles, and other outerwear to prevent exposure. They also quarantine the mold growth by setting up containment barriers and using HEPA filters and ventilators to properly remove and eradicate mold while ensuring spores do not escape into other areas of the home.
Mold growth is a serious health hazard. Consult with a mold remediation service provider to avoid prolonged exposure to mold allergens.