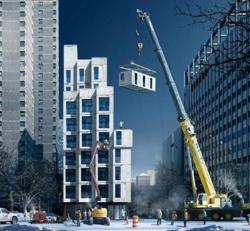 (PRWEB) April 16, 2013
Modular construction's expedited schedule, lower costs, inherent green features and excellent safety record have made offsite construction a valued building solution for decades. And now, developers are turning to the method with unprecedented enthusiasm, particularly in urban areas. To respond to the growing interest in offsite construction, the Modular Building Institute and Pratt Institute School of Architecture will co-host a Modular Construction Summit on May 16, 2013, in Brooklyn, N.Y.
The event will feature two morning panel discussions with high-profile architects and builders, as well as the Commissioner for the NYC Department of Design and Construction. In the afternoon, attendees are invited to tour the factory of Capsys Corp., the modular builder for the My Micro NY project – a 10-story Manhattan apartment building slated for occupancy in 2015.
Tom Hanrahan, Dean of Pratt Institute School of Architecture, will moderate the first morning session: "Permanent Modular Construction for Multi-family Applications." Confirmed speakers include James Garrison, sustainable design pioneer and architect with Garrison Architects; Ian Peter Atkins, BIM Application Manager for architecture firm Kohn Pedersen Fox Associates; and Tom O'Hara, Director of Business Development at Capsys Corp.
The second panel, moderated by Modular Building Institute Executive Director Tom Hardiman, will focus on "Modular Solutions for Disaster Relief: Respond, Recover, Rebuild." The confirmed speakers are David Burney, Commissioner, NYC DCC; William Begley, Director, Modular Housing and Hotels, Sea Box Inc.; Douglas Cutler, architect with Douglas Cutler Architects; and Norman Hall, National Manager for Factory Built Structures, Simpson Strong Tie.
Open to the general public, the event will take place at Pratt Institute, Higgins Hall Auditorium at 61 St. James Place in Brooklyn, from 8:00 a.m. to noon, with lunch at noon and the factory tour from 1:00-3:00 p.m. Registration is $25 before May 10, and $35 thereafter (includes lunch). Media and Pratt students/faculty may attend free of charge, but should register for the event to be guaranteed a seat. To register, please visit the MBI website.
The Summit is sponsored by Capsys Corp., DeLuxe Building Systems, NRB Inc., NRG Equipment and StrucSoft Solutions.
About MBI
The Modular Building Institute is the international nonprofit trade association that has served the modular construction industry for 30 years. Members are suppliers, manufacturers and contractors involved in all aspects of modular projects -- from complex multistory solutions to temporary accommodations. As the voice of commercial modular construction, MBI expands the use of offsite construction through innovative construction practices, outreach, education to the construction community and customers, and recognition of high-quality modular designs and facilities. For more information on modular construction, visit http://www.modular.org.