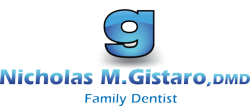 Dr. Gistaro is now offering $100 off any dental treatment including cosmetic, dental implants, periodontics, and endodontics. Also - $500 off Invisalign is being offered!
Chula Vista, CA (PRWEB) April 16, 2013
Leading dentist in Chula Vista, Nicholas Gistaro DMD, is now offering $100 off of any dental treatment. The practice offers comprehensive treatment options including preventive dentistry, cosmetic dentistry, dental implants, sedation dentistry, endodontics and periodontics, dentures with an on-site dental lab, and Invisalign along with various options for TMJ pain relief. Those interested should call (619) 719-5483 for more information.
Dr. Nicholas Gistaro has been in practice for over 25 years and is the premier dentist in Chula Vista. The doctor treats both adults and kids, with top notch treatment. Dr. Gistro is certified as an Invisalign provider. These are clear braces which straighten teeth while most people do not even notice. They are removable for brushing and eating. Along with the $100 off any dental treatment, the practice has a separate offer for Invisalign at $500 off the treatment.
This Chula Vista dentist practice also has an on-site dental lab which allows dentures to be fabricated and same-day repairs to be performed. This can be extremely convenient for those who normally would have to wait up to a week for repairs to be made to the broken dentures.
Dr. Gistaro's practice offers porcelain veneers and crowns, dental bridges, bonding, tooth colored fillings and dental implants Chula Vista trusts. Modern dental implants provide an excellent option to replace missing teeth, providing a look that is just as natural as the surrounding teeth while being extremely durable and lasting.
For those individuals who have dental anxiety, which is 30% of the population, Dr. Gistaro offers sedation dentistry. This eliminates the fear of undergoing dental treatment.
For more information regarding the treatments offered by Dr. Nicholas Gistaro and to receive $100 off of dental treatment or the $500 off Invisalign treatment, call (619) 719-5483.