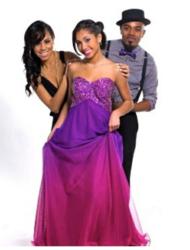 New York, NY (PRWEB) April 15, 2013
On May 2nd, 2013 three prom girls will be selected for the winners of The Prom Princess 2013 contest. Each lucky prom girl will receive a free prom dress provided by MackTak Mart NY, free shoes and accessories for their special day. Professional makeup and hairstyle artist will transform the girls into beauty queens, as part of the prom package.
To win the prom package, the high school seniors must write 350-500 word essay answering the questions: Why they deserve to win a dress from MackTak, what is inner beauty to them, what are their aspirations in life, and what does prom night mean to them. Participants are asked to provide one reference letter from a teacher at the high school they are currently enrolled in.
The deadline for the contest is April 22nd, 2013 and all submissions should be sent to TV host, blogger and creator of My One Night Only, Jessica Perez: info(at)myonenightonly(dot)com. After winning the prom package, the girls will be asked to submit a one minute video on YouTube about themselves. The experience of each girl will be recorded and shared on social media. The goal of the event is to help high school girls who do not have the financial opportunity to afford the prom package, after being affected by Hurricane Sandy last year.
Over a hundred people are going to attend the event, where live music, photographers and videographers will be in present. Outside donations will be accepted to provide the girls with limo service from their house to the prom and back. All donations can be sent to Go Fund Me. Additional donations will go to a non-profit organization called The Door, whose mission is to empower the youth in reaching their goals.
About MackTak Mart New York:
MackTak was created by Mack Tehrani and the support of a close friend Ali Dowlaty. They were both in a music band that was started in college, but later on the band brought to the creation of a new brand called MackTak Collection. The brand specialized in unique and modern designed T-shirts, which are still available online at MackTak Mart. Today the brand carries more than fifty designer dresses for all types of events and occasions. MackTak Mart is a growing and very successful dress retailer that specializes in prom, evening, and cocktail dresses.
Media Contact: 212-302-2468 | marketing(at)macktakmart(dot)com
###