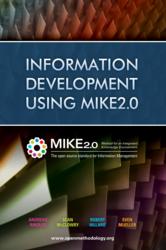 Zurich, Switzerland (PRWEB) April 16, 2013
Big Data, and information more generally, is big business and top of mind in this era of cyber security as the vision of an integrated world moves from science fiction to a day-to-day reality. There are no trivial answers to managing this burgeoning resource even though there are a myriad of point solutions. With this in mind, MIKE2.0 Governance Association (MGA), the governing body of the open source standard for information management, announced today the release of their latest publication, Information Development Using MIKE2.0.
MIKE2.0, which stands for Method for an Integrated Knowledge Environment, is an open source delivery framework for Enterprise Information Management. It provides a comprehensive methodology (with 984 significant articles so far) that can be applied across the key domains of Information Management including Business Intelligence & Performance Management, Enterprise Data Management, Access/Search & Content Delivery, Enterprise Content Management, Information Asset Management, and Information Strategy, Architecture & Governance.
Since 2006, MIKE2.0 has acted as a free resource for information professionals by bringing together best practices in methods, techniques and benchmarking. It is now being made available in print publication to a wider audience, highlighting key wiki articles, blog posts, case studies and user applications of the methodology. With many governments and businesses thinking about how to respond to the latest round of challenges including cyber risks and privacy, the MIKE2.0 book elevates the discussion from day-to-day headlines to a strategic response.
The book has already received significant industry praise:

"The book is a definite must read for Information Management professionals who are looking to establish a data management competency within their organizations" - Sunil Soares ( Founder and Managing Partner, Information Asset LLC)
"Make sure you read it before your auditors or compliance managers do so!" – Andy Mulholland ( Henley Business School and former top 25 most influential CTOs in the world - InfoWorld USA)
Authors for the book include Andreas Rindler, Sean McClowry, Robert Hillard, and Sven Mueller, with additional credit due to Deloitte, BearingPoint and over 7,000 members and key contributors of the MIKE2.0 community.
Get Involved
The book has been published in paperback (available on Amazon.com and Barnes & Noble) as well as all major e-book publishing platforms. For more information on MIKE2.0 or how to get involved with the online MIKE2.0 community, please visit http://www.openmethodology.org.