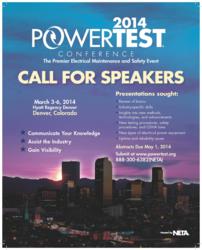 Portage, Michigan (PRWEB) April 18, 2013
NETA, The InterNational Electrical Testing Association, will stage its annual PowerTest Conference at the Hyatt Regency Denver in downtown Denver, Colorado, from March 3 – 6, 2014.
The conference, focused on electrical maintenance and safety, offers professionals the latest state-of-the-art solutions to modern challenges via technical presentations and panel discussions from the industry's leading minds.
PowerTest 2014 will also offer an industry-leading electrical safety and maintenance trade show with 100+ top tier vendors, unlike any other show. Trade show attendance is free.
The conference also offers a symposium on one of the leading challenges facing electrical testing professionals as well as other learning opportunities from in-depth seminars.
Speakers are also being sought now for PowerTest 2014. Abstracts must be received by May 1, 2013, and can be submitted via http://www.powertest.org.
Areas of focus include review of basics; industry-specific skills; insight into new methods, technologies, and advancements; new testing procedures, safety procedures, and OSHA Regulations; new types of electrical power equipment; uptime and reliability issues.
ABOUT NETA -- NETA is an ANSI accredited standards developing organization that creates and maintains standards on testing specifications for electrical power equipment and systems. NETA is an association of leading electrical testing companies comprised of visionaries committed to advancing the industry standards for power system installation and maintenance to ensure the highest level of reliability and safety. http://www.netaworld.org
##