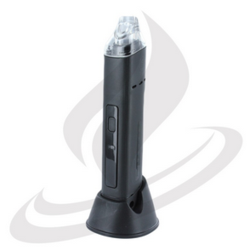 The Volcano has been dubbed 'the Porsche of table top vaporizers,' so perhaps we should start calling the Pinnacle 'the Ducati of vaporizers.'
Boca Raton, FL (PRWEB) April 16, 2013
The green shoots of spring are finally chasing away the doldrums of winter, and with the return of all that natural splendor also comes the Pinnacle vaporizer, a ground-breaking new portable vaporizer perfect for endless days of fun in the sun. Eager vaporizer enthusiasts can now find the Pinnacle at Vape World, the world's premier provider of vaporizers and vaporizer accessories.
The Pinnacle is one of the most compact convection vaporizers available today. Recent additions to Vape World's unrivaled collection of portable vaporizers have included the Pax by Ploom, a gorgeous unit that has elicited much fanfare from the vaporization community. For diehard acolytes of the convection heating method, however, the arrival of the Pinnacle is a special treat. People are even comparing the Pinnacle to the Volcano, a perennial favorite long considered to be the paragon of convection vaporizers.
The Volcano has been dubbed "the Porsche of table top vaporizers," so perhaps we should start calling the Pinnacle "the Ducati of vaporizers". This sleek, lightweight model is only 5" in length and 1" in diameter, making it a perfect choice for the vaporizer user on the fly. Speaking of flying, the Pinnacle works flawlessly at any altitude. Imagine ascending a mountain peak wreathed in mist and pausing to bask in the view while taking a long smooth draw from a Pinnacle vaporizer. The sense of majesty evoked by the name "Pinnacle" suddenly carries an even deeper meaning.
The Pinnacle offers two different heating levels and includes an automatic shutoff feature for optimal safety. This exciting new unit also comes with an easy-to-use cleaning brush, a flavored tip, an unflavored tip, and two "bullets". These "bullets" are removable bowls resembling spent 9mm shell casings that allow users to quickly load their vaporizing blends into the chamber.
Vape World is an authorized dealer of not only the Pinnacle, but also popular vaporizers like the DaVinci Ascent, Pax by Ploom, the Volcano by Storz & Bickel, and so much more.