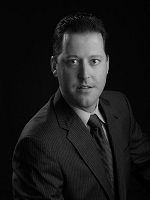 Beverly Hills, CA (PRWEB) April 15, 2013
The Law Offices of Banafsheh, Danesh & Javid, PC are proud to announce the addition of a new attorney to their ranks. Stephen D. Counts is a nationally recognized personal injury attorney with an impressive record of success in case verdicts and settlements, including an individual verdict (OCSC Case No. 05CC09061) totaling a quarter of a million dollars.
A graduate of the University of California Los Angeles in 1999 with a Bachelor of Arts in Political Science, Counts went on to receive his J.D. from Loyola Law School in 2003. While at Loyola, Stephen was an Editor of the Los Angeles Entertainment Law Review. After earning his degree and completing law school, Stephen went on to a promising start as a Trial Attorney for Russell & Lazarus, APC (a personal injury law firm specializing in victims of accidents since 1984, with a 95% success rate in handling over 5,000 cases.)
As an experienced litigation and trial attorney, Stephen D. Counts has countless hours of experience managing cases involving vehicle accidents that result in catastrophic injury, dog bites, premises liability and a wide variety of serious accidents that all share the common characteristic of being caused by the negligence of others. Mr. Counts prides himself on his preparedness, dedication to his clients, and acumen as an advocate for the rights of the accident victims he represents.
"It is not often that you have an opportunity to add someone as skilled and dedicated as Stephen is to your firm. His track record of success as an attorney is only outweighed by his passion for offering his clients exceptional service," said Raphael D. Javid, co-founder and partner of Banafsheh, Danesh & Javid, P.C. " We're delighted to have him and believe he is going to be a huge asset to our firm."
Counts will become an associate in the litigation department of Banafsheh, Danesh & Javid, PC where he will be able to put his extensive experience fighting insurance companies and negligent wrongdoers to good use by helping his clients obtain the maximum compensation for their injuries. He will join the rest of the BD&J Law staff, working from their offices in the heart of Beverly Hills, CA.
About Banafsheh, Danesh & Javid, P.C.
Banafsheh, Danesh & Javid, P.C., is a well-respected Beverly Hills, CA personal injury law firm that serves clients throughout California. The firm's personal injury lawyers handle cases on a contingency fee basis, not charging a fee unless they can gain a recovery for their clients. They practice all form of personal injury law including but not limited to truck accidents, motorcycle accidents, car accidents, pedestrian injuries, brain injuries, wrongful death and other serious injury claims.
The firm also features a staff that speaks Spanish, Italian, Farsi and Hebrew in addition to English and offers free consultations via their toll free number 800-820-1111.