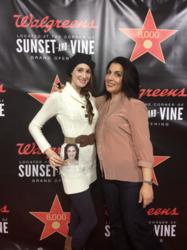 Being the daughter of a pharmacist, wellness has always been ingrained in me. When I became pregnant I realized the need to create products I could eventually trust on my own daughter's skin.
--Alison Raffaele
Cliffside Park, NJ (PRWEB) April 16, 2013
Alison Raffaele Cosmetics' line of healthy, complexion-enhancing cosmetics is now available Coast-to-Coast in Duane Reade/Walgreens' premium makeup department, LOOK Boutique.
Raffaele, the former Head Assistant to Makeup Artist Bobbi Brown, founded the company in 2000 after being unable to find a concealer to cover her own dark circles. From 2000-2006, Raffaele distributed her products through Sephora US and QVC under the brand name Skin Alison Raffaele.
After exiting those channels in late 2006, Raffaele decided it was time to revamp her brand. As the daughter of a pharmacist, promoting health and well-being had always been part of her company's DNA. Like many health-minded individuals, Raffaele had concerns over the use of parabens (the most commonly used preservatives in cosmetics), so when alternatives with a lower risk profile became available, Raffaele challenged her chemists to create the least toxic cosmetics formulas possible with no sacrifice to efficacy. The end result was a line of "Complexion Cosmetics" that are 100% free of parabens, talc, fragrance, mineral oil and gluten. Additionally, all ARC products are Vegan, as the brand does not use animal-derived ingredients or test on animals. ARC was the first makeup artist developed brand to officially "go green," and the company's reformulated products were launched in 2008 under the brand name Alison Raffaele.
With a target audience of busy, professional women and mothers aged 25-50; Raffaele designed her new line as a simple, Four-Step "Complexion Cosmetics" System that women could use to achieve professional-looking results at home.
Step 1: Prepare & Protect with Face Forward Primer SPF 15
Step 2: Unify the Skintone with Reality Base Foundation
Step 3: Conceal & Brighten with True Concealer and/or Incandescence Luminizer
Step 4: Set in Place with Transparent Finish Powder
As of April 2013, The ARC line is featured in 15 LOOK Boutique locations Coast-to-Coast, as well as in Puerto Rico (full list below). The brand is also distributed through numerous independent boutiques in the US and Canada and can be purchased online at Beauty.com, Dermstore.com, Amazon.com, CultBeauty.co.uk, Beautybay.com and deCulto.com, as well as on the company's own website.
Alison Raffaele LOOK Boutique locations as of April 2013:
1. Walgreens #10160: San Patricio Plaza, Guaynabo, Puerto Rico
2. Duane Reade #437: 260 Madison Avenue (39th St), NYC
3. Duane Reade #426: 250 Bedford Avenue, Brooklyn, NY
4. Duane Reade #401: 775 Columbus Avenue (97th St), NYC
5. Duane Reade #486: 2075 Broadway (72nd St), NYC
6. Duane Reade #485: 40 Wall Street, NYC
7. Duane Reade #494: 245 First Ave (14th St.), NYC
8. Walgreens #15065: 1601 N. Milwaukee Avenue, Chicago, IL
9. Walgreens #15278: 1501 Vine Street, Los Angeles, CA
10. Walgreens #3905: 1751 Bonaventure Blvd., Weston, Florida
11. Walgreens #06160: 350 5th Ave (Empire State Bldg.), NYC
12. Walgreens #15199: 5118 Magazine Street, New Orleans, LA
13. Walgreens #15390: 24 School Street, Boston, MA
14. Walgreens #1539: 34300 Woodward Avenue, Birmingham, Michigan
15. Walgreens #15360: 801 7th Street NW, Washington, DC
About the brand
The protégé of Bobbi Brown, Makeup Artist Alison Raffaele is a queen of complexion enhancement. Launched in 2008, her eco-friendly makeup line, Alison Raffaele Cosmetics, is equally concerned with both the appearance and the health of the skin. Her proprietary formulations combine potent, naturally derived antioxidants and peptides with ingredients safe enough for the most sensitive of skins into easy-to-use, yet highly effective products.