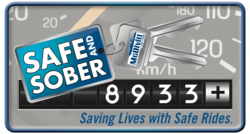 Our goal is to encourage everyone to celebrate Cinco de Mayo responsibly and to prevent drunk driving. We make safety the easy choice by offering free rides home.
Colorado Springs, CO (PRWEB) April 17, 2013
McDivitt Law Firm will provide rides home on Cinco de Mayo weekend with their Safe and Sober Free Ride Home program.
Since the program's inception in 2007, the law firm has provided nearly 9,000 rides home for adults who have had too much to drink or who need a safe way home.
1 Tequila, 2 Tequila, 3 Tequila, Cab!
This year's program offers free rides home the day before Cinco de Mayo from any bar or restaurant in Colorado Springs, Pueblo, and Pueblo West.
Free rides home are available from 10 p.m. on Saturday, May 4, to 3 a.m. on Sunday, May 5:
Colorado Springs:
Yellow Cab of Colorado Springs (719) 777-7777
Pueblo & Pueblo West:
City Cab of Pueblo (719) 543-2525
Patrons should tell the cab companies their ride is on McDivitt Law Firm.
Due to the high number of ride requests on Cinco de Mayo, rides cannot be guaranteed for everyone who calls; however, every attempt will be made to accommodate all requests. Cab drivers have the right to use their discretion when accepting fares.
Rules for Celebrating Safely
Rides are only available to adults who are of drinking age and who have been drinking or who need a safe way home. Rides are provided only to an individual's residence—not to other drinking locations. Patrons are encouraged to tip their drivers.