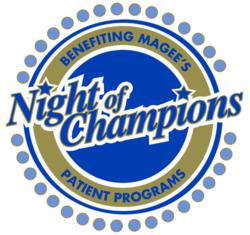 Philadelphia, PA (PRWEB) April 16, 2013
Magee Rehabilitation Hospital will host the 13th Annual Night of Champions fundraiser on Friday, May 3 at Penns Landing Caterers. All proceeds benefit Magee's community and patient programs, such as wheelchair sports, adjunctive therapies, the Patient Resource Center and the Gaspar Center. The evening features dinner, live and silent auctions, live entertainment, local sports celebrities and more.
"Each year, the Night of Champions fundraiser provides us an opportunity to celebrate the champions in Magee and in our community—people who have truly made a difference in the lives of people with disabilities," said Jack Carroll, President and CEO of Magee Rehabilitation Hospital. "We are thrilled to bring back this event for its 13th amazing year."
The 13th Annual Night of Champions will be held at Penns Landing Caterers, 1301 South Columbus Boulevard in Philadelphia on Friday, May 3, with a V.I.P. reception at 6 p.m. and dinner at 7 p.m. The V.I.P. reception will include special appearances by Billy Cunningham, Fran Dunphy, Phil Martelli, Mike Mamula, Speedy Morris, Bernie Parent and Adam Taliaferro. Throughout the evening, guests will have the opportunity to participate in live and silent auctions, as well as raffles, live entertainment by 61 North, and demonstrations by Magee's wheelchair sports teams.
The evening also includes the presentation of the 2013 Champion in the Community Award to Lauren E. DeBruicker, Esq. and Joel D. Feldman, Esq. Lauren E. DeBruicker, Esq. is a former Magee patient and a practicing lawyer. She is involved on the boards of many local charities, serves as a Magee peer mentor and plays quad rugby. Joel D. Feldman, Esq. has helped people recovering from serious injuries for more than 30 years. He also works to raise awareness about the dangers of distracted driving and is involved in Magee's Facility Dog Program.
For more information or to purchase tickets to the Night of Champions, please contact Magee's Development Department at (215) 587-3090 or giving(at)mageerehab(dot)org.
###
About Magee Rehabilitation Hospital
Magee Rehabilitation Hospital, a founding member of the Jefferson Health System and part of the Regional Spinal Cord Injury Center of Delaware Valley and a model center for spinal cord injury, is the Philadelphia region's original provider of physical and cognitive rehabilitation. The not-for-profit health organization provides lifetime rehabilitation and wellness programs for individuals with spinal cord injury, brain injury, stroke, amputation, orthopedic injury, geriatric illness or work injury.