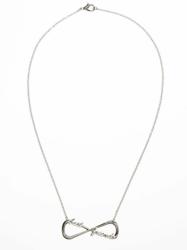 Beverly, Massachusetts (PRWEB) April 16, 2013
FPgirl by FashionPlaytes (http://www.fashionplaytes.com), the first girl driven fashion and style destination, has introduced the Infinity Charm Necklace, winner of FPgirl's recent BFF design contest and newest crowdsourced addition to the FPgirl site. The winning design, which features a classic chain necklace with the words "best friends" decoratively written in an infinity sign, was chosen out of hundreds of submissions by the FPgirl community and is an exciting style statement representing the unbreakable bond between best friends.
"With so much attention currently focused on how fashion brands are influencing young girls, contests like this let our FPgirls take control and express their individuality through the clothing and accessories they design themselves," said Sarah McIlroy, founder and president of FashionPlaytes. "This BFF contest—where designs were created and voted on by our FPgirls—is just one way our site allows girls to unleash their creativity."
Girls were invited to submit a BFF design that could be added to clothing or accessories during a recent FPgirl Design Contest. Over 750 entries were submitted and then voted on by the FPgirl community to decide the winner. The Infinity Charm Necklace is now available on the FPgirl site and makes the perfect gift for any best friend.
As the latest addition to the FPgirl site, the Infinity Charm Necklace joins an already colorful and eye-catching accessories line. Girls can dress up their self-designed clothing with charm bracelets, necklaces, barrettes and Hair Flings™, all available with 125 charms to mix-and-match.
About FashionPlaytes and FPgirl:
FashionPlaytes is the creator of FPgirl.com, the online fashion and style destination where girls are designers and set the trends. The FPgirl community is filled with vibrant, talented, and supportive girls who create cool custom clothing, crowd-source designs, and share their insights about what it's like to be a girl in today's world. FashionPlaytes celebrates all girls, providing a fun, safe, interactive environment. Its engagement-driven ecommerce platform is fueled by girls, for girls, making it the go-to place for all things fashion related.