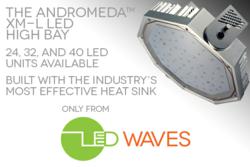 Brooklyn, NY (PRWEB) April 16, 2013
Brooklyn-based LED lighting supplier and manufacturer LED Waves is preparing their return to Philadelphia this week to exhibit at LIGHTFAIR International (LFI). This annual trade show attracts lighting industry veterans and newcomers alike, and LED Waves enjoys the distinction of being one of the smallest companies participating, as well as one of the few that manufacture LED lights in the USA.
At last year's LFI, LED Waves debuted the prototype for a new LED high bay. The Andromeda™ XM-L, designed for industrial/commercial buildings with high ceilings and high drive currents, is an energy-saving alternative to the metal halide and high pressure sodium lighting technology traditionally used in bay lighting. It is built in-house in Sunset Park, Brooklyn, using XM-L LEDs from leading diode manufacturer Cree.
LED Waves is excited to present an updated model this year, featuring higher lumen output and lower color temperature to create a light that's brighter and more pleasing to the eye. The extruded heat sink has also been redesigned to create more surface area, cooling the board more effectively to lengthen its operating life. LM-79 test reports and other optical data for this product are now available for download at LEDWaves.com. The company plans to release another upgrade to the LEDs in this high bay once performance specs have been completed for the new XM-L2.
In addition to the Andromeda™ high bay, LED Waves is presenting a brand-new selection of outdoor LED wall packs. The Owl Pack™ is available in units ranging in brightness from 1,018 lumens (10 Watts) to 15,690 lumens (200 Watts), making them suitable for a wide range of utilitarian lighting applications. This product line employs single diode "chip-on-board" (COB) technology from Bridgelux to minimize fracture points, strengthening overall design.
Wall packs are typically specified for safety lighting in tunnels, parking lots, and outdoor roadways and walkways. LED lights are particularly well suited to replace the incumbent technology (high pressure sodium or metal halide) because their long operating lives, superior color rendering and the tendency to fade incrementally over thousands of hours (rather than failing catastrophically) heighten visibility, creating safer nighttime lighting conditions.
In addition to these metal halide and high pressure sodium replacements, LED Waves will premiere updated versions of their American-made LED PAR lamps. These standard voltage spotlights and floodlights are affordable, longer-lasting, lower energy replacements to halogen bulbs. These and all other items from the company's American LED OEM line are covered by an extended 5 year warranty.
Representatives for LED Waves will be fielding questions about their LED technology and the industry at large at LFI booth number 106. Show hours at the Pennsylvania Convention Center are 10am to 6pm April 23 to 24, and 9am to 3pm on April 25. For sales-related inquiries anytime, use the company's online contact form or call 1-800-986-0169.