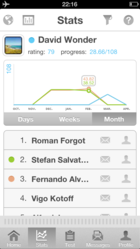 The luckiest app users each month will receive prizes!
(PRWEB) April 30, 2013
For thousands of years people have attempted to answer the question of intuition. Since the beginning of time, there have been people who believe in intuition and luck and others who only trust material science. It seems that everyone has an opinion on this matter; nobody is indifferent.
Until now, it has only been a matter of personal speculation as to whether the answers lie with luck or science. But My108.com has changed that with the help of a brand new iOS application: My108. With this new app, anyone can participate in the global experiment.
The application features several simple, yet powerful and interesting intuition tests. By passing the tests on a daily basis, users acquire long term statistics which are recorded and compared to others. The results are displayed on diagrams and each is statistically valid, thanks to a powerful tool for statistics which is built into the program.
Beyond its usefulness, however, My108 is very entertaining as well. The competition is contagious and interesting, as users are ranked according to their luck rating. Users can compete with people of their own age and gender, as well as those living in the same country or city. Competition can be customized according to each user's interests.
My108 also features lessons and lectures on how to improve intuition, concentration and even relaxation. The luckiest app users each month will receive great prizes, including iPads, iPhones, and more.
Visit https://itunes.apple.com/app/my108/id593492953?mt=8 or http://www.my108.com for more information.