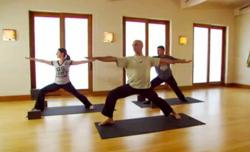 "VetsYoga offers an alternative approach to healing combat stress and PTSD," said BODY owner Lorin Parrish.
Santa Fe, New Mexico (PRWEB) April 17, 2013
BODY of Santa Fe announces it will offer 50% off all Studio classes and passes for any veteran with a Veterans Identification Card or proof of other military I.D. April 15, 2013 through May 31, 2013 in celebration and support of VetsYoga, a program dedicated to the healing of PTSD in veterans through yoga practice. The promotion code is 50% military.
Yoga is the union of breath and movement, with poses that stimulate the endocrine system and release hormones that influence physical health and emotions. The meditative aspect of yoga calms heart rate and respiration, and quiets activity in the brain. Multiple studies testify to the positive impact of yoga on PTSD symptoms. BODY of Santa Fe offers yoga classes for all levels and interests, including Pranayama, Hatha, Ashtanga and Vinyasa classes.
"VetsYoga offers an alternative approach to healing combat stress and PTSD," said BODY owner Lorin Parrish. "We are pleased to offer the healing effects of yoga at a discounted rate to all veterans."
Here are the facts:
*More than 200,000 U.S. service members are still deployed in harm's way
*48,000 have been wounded
*Over 250,000 veterans of the post-9/11 wars are coded with PTSD
*Over 20% of female service members have reported sexual assault
*Up to 30% of Vietnam War veterans suffer from post-combat stress
*The estimated productivity loss from PTSD is an estimated $3 billion annually.
Veterans visiting BODY must show a military ID and will be offered a 50% discount on any passes or drop-in classes.
For a video on VetsYoga, information about their DVDs and an opportunity to give to the cause, please go to their site: http://vetsyoga.com.
For more information please visit http://www.bodyofsantafe.com or call (505) 986-0362.
For press inquiries, contact:
Jennifer Hinsley
JLH Media
505 603 8643
Jennifer(at)jlhmedia(dot)com
###
About BODY of Santa Fe: Founded by Lorin Parrish in 2004, BODY is a yoga and dance studio, café, spa, fitness center and boutique as well as a childcare center and yoga teacher training facility located in downtown Santa Fe. Built on the premise of functioning as a community center that inspires and encourages wellness, BODY is known for its commitment to sustainable, organic and fair-trade products in its boutique and selections of raw and vegan food as well as wheat, dairy and sugar free meals. BODY's café includes selections of wild line-caught fish and locally grown chicken and lamb as well as organic wine, local organic beer and sake, veggie cocktails and elixirs. A new 200 hour Vinyasa teacher-training program, BODY Yoga School, began in spring of 2012. BODY was recently voted by Santa Feans as the best yoga studio, restaurant for vegetarians and place for a facial and massage. For more information, please visit http://www.bodyofsantafe.com or call 505.986.0362.
About VetsYoga: In 2012, filmmakers Jodi Delaney and Craig Coffman created VetsYoga, an introductory yoga DVD for veterans with PTSD. VetsYoga includes a beginner's yoga practice and a relaxation practice, designed to enhance focus, flexibility, relaxation and strength. Two veterans (Gulf & Iraq wars) also offer compelling testimonials about their discovery of yoga and its impact on their PTS symptoms. Military.com calls it "a great workout for body, mind and spirit." Yoga Journal Magazine reviewed it as "a tool to adapt peacefully to civilian life."
To date VetsYoga has been purchased by vets in 38 states and four countries, in addition to Camp Lejeune and VA Centers in the U.S. with 100% positive reviews. We are honored by this opportunity to grow the reach of VetsYoga and further enhance the health and well-being of veterans and service members - finding some peace on the mat and bringing it into daily life.