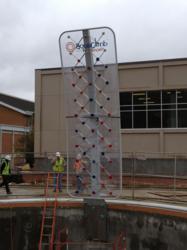 Our Designers presented the AquaClimb Sport to Auburn University as the extreme element in the design and it was deemed a perfect fit for the project by all. Carl Nylander, Principal and Studio Director, Councilman-Hunsaker
Frederick, MD (PRWEB) April 17, 2013
Pyramide USA Inc., the designer and manufacturer of AquaClimb poolside climbing walls, announces the first installation of the AquaClimb Sport model in the United States. The Sport was installed on April 4th at the Auburn University Recreation and Wellness Center in Montgomery, AL as part of the 240,000 square foot construction project. The aquatics portion of the project was developed by Counsilman-Hunsaker, a leader in international aquatic architecture known for their innovative vision and operational efficiency.
The AquaClimb Sport model possesses a contemporary design that is constructed of 316 stainless steel and clear polycarbonate climbing surface. Color coded holds provide climbers with a variety of challenge levels. The Sport was designed primarily for universities and larger aquatic facilities.
"The university environment has a very broad demographic when it comes to recreation," explains Carl Nylander, Principal and Studio Director at Councilman-Hunsaker. "The demographic can be broken down into two groups, passive and active users. The passive audience enjoys a more laid-back social experience. The active demographic is driven toward more extreme elements." According to Carl, "Our designers presented the AquaClimb Sport to Auburn University as the extreme element in the design and it was deemed a perfect fit for the project by all."
The Sport installation process was led by Cox Pools with the CEO of Pyramide USA Inc, Russell Moy in attendance. The complete installation was finished in two days by three people. Russell said, "The installation went smoothly and Cox Pools was a pleasure to work with." Pictures of the installation process can be seen by clicking here.
The excitement for the new facility coming to fruition is spreading across all of the social media channels. Chad Day, Auburn's Assistant Director of Campus Recreation/Aquatics, posted about the AquaClimb Sport on Facebook, "It's up and looking awesome. Cannot wait to fill the pool and test that Bad Boy out!" The Auburn University Recreation and Wellness Center is slated to open in the June 2013 timeframe and will be one of the leading campus recreation facilities in the country.
About AquaClimb
Pyramide USA Inc. has always been one of the industry leaders in the design, manufacturing and installation of climbing walls globally for over 25 years. Pyramide USA ventured into development of aquatic climbing walls introducing a complete line under the brand name AquaClimb in 2004. More information about AquaClimb and the complete line of AquaClimb models is available at http://www.aquaclimb.com
If you would like more information or to schedule an interview with CEO, Russell Moy contact Doug Cooke at (800) 956-6692 Doug(at)aquaclimb(dot)com