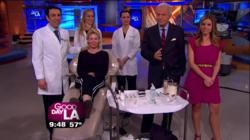 Los Angeles, California (PRWEB) April 15, 2013
According to a Spring 2013 New You magazine article, advances in skin tightening have been made, yielding devices that are more effective and better for patients than ever before. One such advancement is Ultherapy, a nonsurgical brow and neck lift that is the first ultrasound technology to receive FDA approval for this type of cosmetic procedures. (Go to goo.gl/s3fmw)
"I'd say that, along with sun damage, sagging skin might be the chief complaint of our older patients," says Dr. Ourian. "Loss of facial volume is just an unfortunate part of the aging process. With the loss of facial volume comes sagging skin. These new devices promise to not only tighten the skin but promote the growth of collagen."
Ultherapy uses sound waves to reach into the top layers of skin and even into the muscle layers underneath. These waves induce vibrations in the skin cells causing heat to be generated. This process causes the already existing collagen in the skin layers to tighten, and also causes new collagen to be produced. This process is called collagen remodeling. When used over a three to six month span, this therapy has proven to be able to effectively lift and tighten sagging skin.
Ultherapy is the first treatment of its kind that allows physicians to see the various skin structures that they are treating. The visualization with Ultherapy affords doctors greater accuracy when defining certain features of the face.
"I believe we're on the forefront of a new generation of non-invasive skin tightening devices," says Dr. Simon Ourian, Medical Director. "Over the next few years I expect to see the introduction of new technologies and improvements in existing ones that will really make patients question the risks of a traditional surgical face lift."
Another relatively new treatment for sagging skin is broadband light or BBL. This treatment decreases lines and wrinkles. It also smooths and firms sagging skin. Photofacial rejuvenation changes how skin cells read their genes and make them act, and therefore, appear younger. Skin on the face and other areas of the body have been shown to benefit from this procedure. Treatments should be administered every three to six months for optimal results.
"As it mentions in the article, I think it's only a matter of time before everyone in their forties will be interested in treatments like Ulthera and BBL," concludes Dr. Ourian.
Dr. Ourian has been a pioneer in laser technology and non-invasive aesthetic procedures including Restylane, Juvéderm, Radiesse and Sculptra. These treatments are used for the correction or reversal of a variety of conditions such as acne, acne scars, skin discoloration, wrinkles, stretch marks, varicose veins, cellulite, and others. More information about new skin tightening treatments can be found on Epione's website.