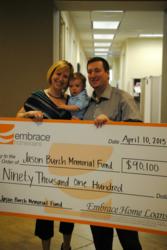 Rockville, MD (PRWEB) April 17, 2013
Jason Burch had just celebrated his 33rd birthday. He was on the verge of landing the job of his dreams. He had a loving wife Nikki, and a beautiful seven-month-old baby boy, Colin. But, Jason also had Pulmonary Fibrosis, a fatal disease that resulted in a lung transplant three years earlier. The job was as a loan officer at the Rockville office of Embrace Home Loans. He would finally be working with a team of friends and colleagues that he had known and worked with in different capacities over the past seven years. Jason's death on January 17th of this year and the circumstances of his passing touched the employees of Embrace from Rockville to their corporate offices in Newport, Rhode Island. Dennis Hardiman, the owner of Embrace, knew well the ravages of pulmonary fibrosis having lost four siblings in the last five years to the disease.
To raise money for colleagues or friends in need, Embrace often has a jeans day. This is a day when employees donate $3 for a good cause and the privilege of dressing down on a Friday. The company then matches the funds that are raised. For Jason, his friends and colleagues would have a jeans week marshaling all their resources to raise $23,000, an amount that the company would double and Hardiman, through a personal donation, would quadruple. The $90,000 raised in memory of Jason will provide quality day care for Colin for the next year, help with mortgage payments, medical payments, establish a 529 Plan in Colin's name and help fund a new non-profit, started by Jason's brother Mark Burch, devoted to assisting families who are battling pulmonary fibrosis.
Sean Hennessy, along with his wife Margie, both loan officers at Embrace, spearheaded the fundraising campaign. "Our goal was to ease the financial burden for Nikki, so that the time she and Colin spend together is not filled with fear and worry over an uncertain future. With a little luck, and the kindness and generosity that has been shown by Hardiman and the employees of Embrace Home Loans, Nikki will have that opportunity to put some of her worries aside and focus on plotting a new course for her and Colin."
Sean, Margie, and the entire Embrace team were thrilled to present Nick, Colin and Jason's brother Mark with a check at the Rockville office this past week. Nicki, clearly moved, expressed her gratitude simply, "Thank you so much for caring. You and Embrace have changed our lives. Jason would be so proud."
About Embrace Home Loans:
Founded in 1983, Embrace Home Loans is a direct lender for Fannie Mae and Freddie Mac, approved by FHA and VA, and is an issuer for Ginnie Mae. A member of the Mortgage Bankers Association of America (MBA), Embrace Home Loans is an Equal Housing Lender and an accredited business of the Better Business Bureau. Additionally, Embrace Home Loans has been recognized for its excellence in the workplace and devotion to community service through numerous local and national awards, reflecting the lender's commitment to its strong values and outstanding service. Embrace Home Loans is a national lender helping hundreds of thousands customers to date. To learn more about Embrace Home Loans, visit embracehomeloans.com.
For more information about Pulmonary Fibrosis, visit http://www.pulmonaryfibrosis.org.
Media Contact:
Tim Coutis, Creative Director
(401) 846-3100 - Ext. 3485
tcoutis(at)embracehomeloans(dot)com