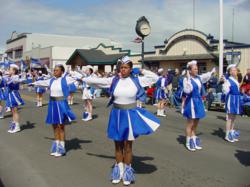 It's a good weekend to participate in honored traditions and simple, hometown fun.
Long Beach Peninsula, Washington (PRWEB) April 19, 2013
A full weekend of star-spangled events is planned for the Long Beach Peninsula on May 4 and 5, with the traditional U.S. Coast Guard Blessing of the Fleet and the 63rd annual Loyalty Day celebration of patriotism. Most activities are free, and the public is encouraged to join in.
"Snapshots of Loyalty Day weekend activities liken to scenes of small town American life depicted by Norman Rockwell in the mid 20th century," said Andi Day, executive director, Long Beach Peninsula Visitors Bureau. "It's a good weekend to participate in honored traditions and simple, hometown fun."
The highlight for Saturday, May 4, is the annual Blessing of the Fleet. The Blessing of the Fleet is a traditional observance to bless boaters and all those who have lost their lives at sea. The ceremony involves a non-denominational blessing, a wreath drop from a U.S. Coast Guard helicopter, and the tossing of flowers by boat passengers. Sponsored by the Ilwaco Charter Association, free scenic boat rides (first come, first served) depart from the Ilwaco Boat Basin at 1PM for the memorial service.
Also at the Ilwaco Boat Basin on Saturday, the U.S. Coast Guard will display a 52-foot lifeboat from 10AM to 3PM, and the Ilwaco Saturday Market will kick off its summer season at the marina.
A lively and fun Kid's Loyalty Day Parade will get into formation at 11AM on Saturday in Ilwaco. The parade will begin at noon; same-day sign up to enter is available and encouraged.
In addition, the Long Beach Elks Club will host an Oyster Feed from 1 to 4PM, on Saturday, at the Elks Lodge, Long Beach.
Sunday will start with a Cowboy Breakfast at 7 to 11AM the Peninsula Saddle Club, Long Beach, and continue with free fire truck rides for children at the Ilwaco Fire Hall from 10 to 11AM.
At 10AM, the public is invited to attend the dedication of Veterans Field and Flag Plaza (3rd Street and Oregon Ave. N., Long Beach), welcome additions to the downtown. A project of the Loyalty Days Committee, Flag Plaza displays flags from each of the five branches of the military, a POW/MIA flag, and a 50-foot U.S. flag, arranged in a half moon around a 3,000-plus pound brass liberty bell.
Adjacent Veterans Field is the site of many public events including the seasonal Columbia Pacific Farmers Market.
The weekend's activities culminate with Sunday's Loyalty Day Parade. Boasting over one hundred units including marching bands, drill teams, classic cars, clowns, horseback riding clubs, fraternal organizations, VFW posts, and the well-loved Newfoundland Dog Club, this hometown parade is themed "Liberty for All."
Richard Schumann, portraying Patrick Henry, will be the Loyalty Day guest speaker at the parade; U.S. Coast Guard Lt. Scott McGrew the Reviewing Officer; and Jim Sayce, the emcee. Judging will take place starting at 10:30AM. The Loyalty Program will start at noon in downtown Long Beach. The parade will begin at 1PM. Trophies for parade participants will be awarded at 3:30PM at Veterans Field.
Long Beach claims the longest consecutively running Loyalty Day celebration in the nation. The annual display of patriotism started in 1950 and has been held each year since.
Located on in the southwestern most corner of Washington State, two hours from Portland and three hours from Seattle, the Long Beach Peninsula is a favorite destination for its 26-mile beach and superb seafood offerings. With its mix of sensational restaurants, ocean view lodging, unique museums and attractions, lighthouses, galleries, trails, birding spots, and, above all, its long, wide, windswept beach, the Long Beach Peninsula continues to be one of the Northwest's most enjoyable and refreshing getaway destinations. For event and visitor information, please call the Long Beach Peninsula Visitors Bureau at 800-451-2542, or access http://www.funbeach.com.