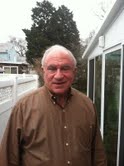 It's a lot easier to start a new business than to make that business a success!
Redding, CT (PRWEB) April 18, 2013
"The Wall Street Journal" did a story on starting a new business after the age of 60 as part of their Sunday insert on April 7, 2013. Tony Nestora, the founder and owner of Back Up Better, LLC was one of the "over age 65" business owners featured in that article and here is a summary of what that article said.
Tony Nestora had a dream. He found a product that was very effective in helping to avoid "back over" accidents and wanted to create a company to market and sell this product through an on line e-commerce company. Back Up Better, LLC was founded in 2010 and "went public" in 2012. Scary but true, over 50 times every week a parent or relative backs over a young child in a driveway or a parking lot, often fatally. There are over 15,000 serious injuries and over 250 fatalities every year from back over accidents. Those numbers rival the injuries and fatalities caused by talking or texting while driving yet that is what seems to get all the press. Half of all back over accidents do not ever get reported, even though most people have heard about one of these horrific accidents in their "own backyards" at one time or another.
Setting up a website, a Twitter account, and a FaceBook page isn't an easy task, but making them work and making a new company a success is the real hard part. Back Up Better was in a quandry as to what to do and how to do it. Finally using social media properly became the answer. The Back Up Better website is loaded with visuals, info, and statistics. It has endorsements and testimonials. It tries to "humanize" the need to do something to protect yourself against having one of these horrific accidents. So far the response has been very positive.
Back Up Better has networked with "Mommy Bloggers," other social media, and local publications to try and "spread the word." While a degree of success has been reached, Tony Nestora won't be happy until he hits that preverbial "home run," that's what Back Up Better is shooting for right now. They are looking for investors in order to raise funds to further spread the work through radio advertising and infomercials. To do that right requires an awful lot of capital. Mr. Nestora's business partner, Joe Feigenbaum, owns TDO, The Design Organization, and he built all the social media and websites for Back Up Better. The challenge is straightforward, how to get investors to invest in an idea, buy on to the critical need for a particular product, and then make people safeguard themselves against the problem. It's harder than it sounds. Again, starting a new business, at age 65 or any age is not that hard. Making it into an ongoing success is in fact the real goal of all business owners.
Back Up Better sells vehicle safety products, specifically a rear window fresnel lens which goes on the inside of the rear window. Their website is http://www.backupbetter.com.