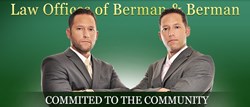 Live chat feature announced on Miami Personal Injury Lawyer website to increase functionality and accessibility for all visitors.
Miami, Florida (PRWEB) April 15, 2013
Live chat feature announced on Miami Injury Lawyer website by the Law Offices of Berman and Berman, Florida injury and accident attorneys.
The Berman Law Group has just announced a new live chat feature on their Miami injury lawyer website. The live chat feature is part of their committment to the community, where they help all injury and accident victims get the answers they need in a timely fashion. Live chat is available 24 hours a day and free of charge to all visitors on the website. The live chat feature is very simple and easy to use, just like instant messenger with friends, but this one connects the visitor to the experienced and qualified staff at the Berman Law Firm.
The Berman Law Group are experienced injury and accident attorneys in Miami, Florida. They are able to take cases from many different areas of the legal spectrum, including but not limited to: Personal Injury, Wrongful Death, Product Liability, Workers Compensation, Auto Accidents, Motorcycle Accidents, Workplace Accidents, Family Law, Criminal Law, Toxic Torts, Spinal Cord Injuries, Traumatic Brain Injuries, Burns, Amputations, and much more.
To access the live chat feature visit their local Miami injury lawyer website at http://personalinjurylawyermiamiflorida.com and click the live chat box in the bottom left corner of the screen. From here visitors will be automatically connected to a live chat representative who will be able to provide the help needed to assess their legal case.
If anyone is not computer savvy, they are still able to call the Law Offices of Berman and Berman on their local Miami lawyer hotline at (305) 842-3160 or on their nationwide legal hotline at (877) 529-8995. Both of these numbers are answered 24 hours a day and 7 days a week.
For those who are in need of a Florida injury law firm, whether they be in Miami or somewhere else in the large state of Florida, contact the Berman Law Group today at 1-877-529-8995 to talk about one's case and their options for justice in and out of court. The Berman Law Firm has offices in Boca Raton and Stuart, but are able to serve the entire state of Florida through their law firm. They are committed to the Florida community and help to fight and win justice for all injured and harmed persons.