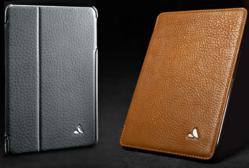 Our new iPad Mini Cases give our customers more options for customization," says Case-Mate/Vaja CEO Shashi Reddy, "Now they can pair their exclusive iPhone case with a matching iPad Mini case
Miami, FL (PRWEB) April 15, 2013
Vaja Cases, the premier Argentine producer of handcrafted leather accessories for personal electronic devices, has released a new iPad Mini cover, the Nuova Pelle and the redesigned new iPad Mini Libretto case. The Nouva Pelle for the iPad Mini is a new style focused product featuring a minimal design, providing basic protection. The Libretto is a more robust product offering padded protection over that of the Nouva Pelle. The Libretto for iPad Mini has been completely redesigned to include comprehensive four-corner protection and a new camera eyelet for enhanced photos.
"Our new iPad Mini Cases give our customers more options for customization," says Case-Mate/Vaja CEO Shashi Reddy, "Now they can pair their exclusive iPhone case with a matching iPad Mini case."
The Nouva Pelle leather iPad Mini case is accentuated with a textured, premium Bridge leather exterior and a rich, embossed leather interior that helps to keep your iPad mini screen clean and dust free. Featuring a sleek, minimalist design, the Nouva Pelle provides full back and screen protection common to most quality iPad leather cases. The reusable adhesive backing offers a streamlined fit that doesn't leave any residue on the iPad Mini. Uncommon to most leather iPad cases, the Nouva Pelle is equipped with a proprietary magnetic closure system that secures the iPad when not in use.
The Libretto case is one of the premier leather iPad cases offered by Vaja Cases. Like all Vaja's custom iPad cases, the Libretto features superior Argentine leather and craftsmanship. The new redesign offers comprehensive four-corner protect and includes a new redesigned camera eyelet. The Libretto features dual landscape viewing options, and, much like the Nouva Pelle, is equipped with Vaja's proprietary magnetic closure system that automatically engages sleep mode to preserve battery life. The Libretto designer iPad cases fit securely with precise cutout for easy access to all function buttons. As always, all Vaja iPad cases are available in an endless array of custom colors.
About Vaja
Vaja's leather products have been coveted by the fashion and consumer electronics industry elite since 1998. Vaja's artisans allow consumers to choose from a matrix of near-infinite leather color options in order to customize the product's type, texture and hand-stitching that is reflective of the individual's personal style. Vaja's luxury leather goods include cases for smartphones, tablets and laptop cases, as well as small leather goods, such as wallets, mouse pads and eyeglass cases. For more information, visit http://www.vajacases.com.