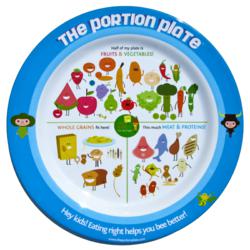 Chicago, IL (PRWEB) April 16, 2013
According to a recently published article in the Official Journal of the American Academy of Pediatrics, smaller plates, like beBetter Health's Portion Plate, can be used to combat the childhood obesity epidemic.
"This study provides some great insights on the decision-making process of kids when they serve themselves," says beBetter Health's Portion Plate® product manager, Ryan Cameron. "The Kids Portion Plate was developed to not just show kids proper portions, but to also help them recognize which food groups (fruits, vegetables, lean proteins, and whole grains) to focus on."
The study, "Plate Size and Children's Appetite: Effects of Larger Dishware on Self-Served Portions and Intake," evaluated the effect of larger dishware on children's self-served portion sizes and intake during meals. The 42 elementary school children studied served themselves an entrée and side dish using either child- or adult-size dishware, which represented a 100 percent increase in the surface area of plates and volumes of bowls across conditions. The children who used the larger dishware self-served, on average, 90 calories more than those children using the smaller dishware. The study also showed that, when using larger dishware, children did not serve themselves more vegetables, although they did serve themselves more fruits.
"One simple solution to this study's findings is to provide children with proper portion-sized plates. A smaller plate can help guide children toward correct portion sizes," says Amanda Piccolo, MS, RD for the Association for Child Development. "Additionally, it is important to teach children to fill their portion appropriate plate half full of fruits and vegetables. Helping children visualize what their plate should look like will help them get important nutrients needed to grow and remain healthy."
beBetter Health's Kids Portion Plate® was developed with the input of registered dietitians and abides by the USDA MyPlate guidelines in regards to portion size and nutrition guidance. By the use of fun pictures, the Kids Portion Plate® gives children a friendly reminder of proper portions and healthy food groups.
About beBetter Health:
beBetter is a corporate wellness company focused on making it easy for employers and their benefits consultants to deploy and manage effective wellness strategies. One of the keys to employee health is helping their families eat healthy meals. beBetter Health's The Portion Plate® and custom portion control tools are designed to help children, individuals and families remember healthy eating habits every time they sit down to eat. Portion Plates are durable, dish-washer safe and completely customizable. The Portion Plate also abides by the USDA MyPlate guidelines. Portion Plate has been used by a half million dietitians, educators and consumers to reinforce balanced eating and a healthy diet. To see more about The Portion Plate®, visit http://www.theportionplate.com.