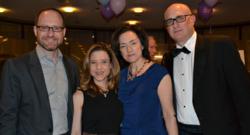 White Plains, NY (PRWEB) April 16, 2013
Steffi Nossen Dance Foundation (SNDF) recently hosted its annual Benefit Concert where more than 500 attendees enjoyed performances by the dance school's top ensembles. The gala fundraiser was the culmination of SNDF's Benefit Week Community Concerts — a series of performances dedicated to sharing the joy of dance with the Westchester County community. Proceeds from the gala will benefit the school's programs.
On the two nights prior to the evening of the Benefit Gala, held at the Performing Arts Center at SUNY Purchase, SNDF invited clients of local service and community organizations to attend special performances at no cost. Long at the forefront of strengthening community relationships, the not-for-profit expresses its altruistic spirit through the Benefit Week performances. Attending organizations included Westchester ARC, Atria, Westchester Jewish Community Services, White Plains Youth, United Cerebral Palsy, St. Agatha's, Yonkers Parks and Recreation and Port Chester's Young Adult Institute among others.
"Steffi Nossen was founded on the belief that everyone should have the opportunity to experience dance," said Jeannie Aplin, SNSD Executive Director. "We encourage our students to understand the importance of community outreach. Performing for local organizations allows them to combine their love of dance with the joy of giving back to the community."
Steffi Nossen Dance Foundation's Saturday night event was a combination fund raiser and celebration of the school's rich history and position as Westchester's premiere dance school which serves students from more than 15 Westchester communities. The evening began with a cocktail reception that included a silent auction and raffle, before the doors to the theater opened welcoming friends, family and supporters who were invited to share the delight of watching the school's talented dancers perform. The evening also featured a special, posthumous tribute to Kathryn K. Wolfe, the school's first executive director, and longtime board member and Board Chair. Her dedication, energy and commitment were vital to the continued life of SNDF.
"Our dancers dedicate an extraordinary amount of time and energy preparing for these performances," said Aplin. "Backstage there is palpable excitement and joy in our community of dancers, and great emotion as the curtain closes on these special evenings. We are so thankful to all of our generous supporters for sharing our love for dance and for allowing us to continue sharing this passion with the entire community."
About Steffi Nossen Dance Foundation:
The Steffi Nossen Dance Foundation, formerly the Dance in Education Fund, is a not-for-profit dance advocacy and community outreach organization, which seeks to foster the arts in Westchester County. The Foundation supports and promotes arts, allowing for dance education and performances to be available to broad and diverse populations. Through significant artist support, outreach classes and free performances, the Foundation introduces dance to traditionally underserved children and adults. With the support of the Foundation, the Steffi Nossen School of Dance enables all students, including those with special needs, the opportunity to participate in their extensive programs and classes in a non-competitive environment. A generous financial aid and scholarship program supports those with significant economic challenges. With a sterling reputation in the industry and a rich 76 year history, Steffi Nossen is a leader among dance schools, focusing on the growth of students' mind, body, spirit, and character.