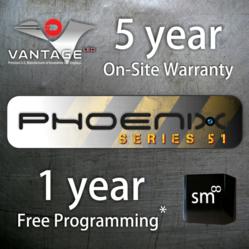 "I've spoken with several industry leaders and they've been impressed and awed with what Vantage LED and Spectacular Media have done." Vantage's LED Technology Specialist, Deacon Wardlow.
Las Vegas, NV (PRWEB) April 17, 2013
This year's International Sign Association Expo was a memorable event with thousands of attendees and exhibitors from all areas of the sign industry showing off their best work and providing a glimpse into future of sign technology. Vantage LED and Spectacular Media joined forces for an impressive performance in the new Dynamic Digital Park, an area themed exclusively for digital signage technology.
The joint exhibitors turned many heads in the industry with a host of new offerings ranging from top of the line software to a new product line and on-site labor warranties. The booth was staffed with both Vantage LED and Spectacular Media representatives to handle the large influx of attendees, curious to know what all the buzz was about.
Early in the show, Vantage LED announced the availability of their new "Series 51" full color LED display line that includes a 5 year onsite warranty, and 1 year of Spectacular Media's SM Infinity™ content service. The announcement was welcomed by industry professionals who have yet to see a program like this from a well-established manufacturer.
"This product series provides something that the industry has been waiting a long time for." said Paul Martin, Director of Marketing for Vantage LED, "A manufacturer that is willing to truly stand behind their product in both words and actions, and ensure the sign content is dynamic, professional, and accessible from the Internet."
Vantage LED showcased the new product with three full color outdoor displays built into the top of their booth. High resolution 10mm, 16mm, and 20mm displays demonstrated the different pitches available, and also provided a platform to demonstrate the advanced diagnostics that "Series 51" supports.
"We can check and receive the status of everything from voltage levels and power supplies, to onboard hardware and temperature diagnostics." according to Yuusuke Arimura, Vantage LED's head engineer and R&D lead. "It was good to be able to show people face to face what these displays are capable of doing."
The content creation service is provided by Spectacular Media's SM Infinity™ "cloudware" that allows owners to control their LED signs from the Internet and receive professional custom content created by SM Infinity™ designers.
Spectacular Media joined forces with Vantage LED reps to demonstrate some of the new features of SM Infinity™, like the new iPad App and the ability to create "conditional messages" depending on variables like product inventory levels or weather.
"It was fun for everyone to see the 'Fresh Lemonade' message on screen when we raised the temperature, and the 'Hot Coffee' message when we lowered it." said Scott Hofheins, Project Manager and Technology Rep for Vantage LED, "This really helped us demonstrate the power of SM Infinity™ in a very clear way, all completely through the internet. We didn't have any direct connections to the signs at all."
Vantage LED also had a presence in the ISA education sessions with Deacon Wardlow offering his expertise in a Friday session about the advantages of digital on-premise advertising. The session was well received, and Mr. Wardlow was asked to present a second session when a scheduling conflict left an opening on Saturday.
"I've spoken with several industry leaders and they've been impressed and awed with what Vantage LED and Spectacular Media have done. We're actively setting new standards in the industry and raising the bar for end-user expectations," exclaimed Vantage's LED Technology Specialist, Deacon Wardlow.
Overall the show was a complete success for both Vantage LED and Spectacular Media. According to Vantage CEO Chris Ma, the feedback and response to the new technology was overwhelmingly good, and they are looking forward to a bright future as innovators in the industry.
"2013 is going to be a great year for us." he said "We are excited to create new partnerships and expand existing ones to create a more support and resource driven industry as a whole."
The ISA Expo started Thursday April 4th and ran until Saturday April 6. Next years show will be in Orlando Florida, at the Orange County Convention Center from April 23 to April 26th 2014.