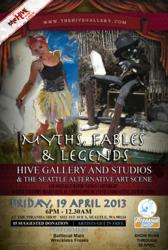 Seattle, WA (PRWEB) April 15, 2013
The Hive Gallery and Studios from Los Angeles and Seattle's Piranha Shop present an exciting new collaboration between California and Washington's alternative, urban and underground art scenes. In celebration of Seattle's unique creative spirit, printing company United Reprographics is sponsoring this mythical, legendary event.
Myths, Fables & Legends features over 80 local artists, including featured artists Chris Sheridan, Jeremy Gregory, Larkin and Levi Hastings. The show's opening celebration will be held Friday, April 19th from 6:00 p.m. to 12:30 a.m. at the Piranha Shop, 1022 First Avenue South, Seattle, Washington. Opening night includes performances by Battlecat Mars, DJ Jades, Kurly Something, Morgue Anne, The Past Impending, and Wreckless Freeks. A suggested donation of $5 will ensure these events can continue to happen. Visitors can enjoy the exhibit through April 30th.
Curated by Nathan Cartwright, Braden Duncan, Xavier Lopez Jr and Yvette Endrijautzki, produced by Zachary Sofia, this collection celebrates the madness of the world that thrives in fantastical lore. Tucked between the storied exhibitions of monsters, gods and goddesses, human-animal hybrids, devas, fairies, winged and crawling creatures, modernist legends and more, will be offerings of food, libations, outrageous circus acts and pulse-pumping music.
"We should all take the opportunity to step outside the lines of our day-to-day monotony and explore the visual creations of those whose minds are less constrained by tedium than our own," said Michael Barrett, president of United Reprographics. "As a printing company, we believe that supporting Seattle's underground art scene helps remind people of the value of tangible printed creations."