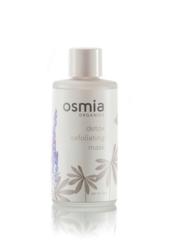 The dry form of this natural face mask makes it more versatile for the consumer, without having to add chemical preservatives.
Carbondale, CO (PRWEB) April 22, 2013
Osmia Organics has a new take on exfoliation and facial masks - can't they be combined? The company has two exfoliating masks - the Protein Exfoliating Mask and, starting April 22, the Detox Exfoliating Mask. These dual-purpose powders come in dry form, and are combined with fresh water each for each use, using the included dish and stirring spatula.
With three kinds of "earth"- Rhassoul Clay, Fuller's Earth, and Pink Australian Clay - the Detox Exfoliating Mask is the ideal Earth Day release. Rhassoul Clay is rich in minerals, and can help with flaky, dry patches. Fuller's Earth clay is known for its skin-lightening effects, and can help control oily spots with its absorptive power. Pink Australian Clay is excellent for sensitive, dehydrated skin, drawing moisture to the skin. The dry powder, also comprising organic, raw powders of cacao bean and manuka honey, comes in a glass bottle with a small, reusable ceramic dish and stirring spatula. Making the mask fresh each time eliminates the need for harsh preservatives, which are commonly present in liquid masks. With this product, two teaspoons of powder are to be combined with 1.5 teaspoons of water to make a paste. Osmia's founder, Dr. Sarah Villafranco, says "When I first developed this detoxifying mask, I was so enchanted by the earth-plus-chocolate smell of the dark mixture that I chose not to add any essential oils for fragrance. The clays and cacao and honey look and smell like dark, rich, nourishing dirt - and who doesn't want to play in the mud?"
The face mask may be used in one of two ways. First, it may be used as a mild facial scrub alone - extremely finely-ground, organic, black walnut shells and organic olive leaf powder provide a gentle, physical resurfacing of the face, sloughing away older skin cells, addressing fine lines and dull skin. Alternatively, the paste may be applied as a mask: the clays and activated bamboo charcoal draw impurities from the skin, manuka honey heals and hydrates, and raw cacao provides nourishing fatty acids and gently tones with its inherent caffeine content. After the clays tighten and dry on the face (approximately 10-15 minutes), the mask may be softly massaged away, providing the exfoliating action at the end. (This is best done in the shower or tub to allow the mask to rinse away with less mess.) Pore size is minimized, and open comedones (blackheads) reduced. Due to the pulling and tightening action of the mask, very slight redness, especially in those with sensitive skin, may be experienced for up to 20 minutes, but will resolve, leaving the skin healthy and revitalized.
The detoxifying mask is suitable for all skin types. It should be used once a week as part of a skin care regimen to encourage cell turnover and deep cleansing of the pores. It may be followed, if needed, with a moisturizer or a facial serum.
For more information about Osmia products, or to purchase the Detox Exfoliating Mask, please visit http://www.osmiaorganics.com.