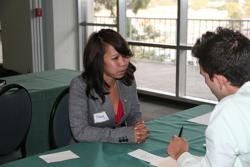 Scottsdale, AZ (PRWEB) April 16, 2013
Improvements in the U.S. job market are energizing human resources departments as they actively recruit and hire new staff.
According to the Federal Reserve's Federal Open Market Committee, U.S. job growth in 2013 and 2014 is expected at a faster clip than in previous forecasts.
To effectively handle this increase in hiring, human resources departments are turning to Software-as-a-Service (SaaS) programs instead of traditional software. The Gartner Group estimates that SaaS for enterprise software will grow 17.7 percent annually through the end of the year.
Paul Hamerman, vice president and principal analyst at Forrester Research Inc., stated: "SaaS adoption is already at very high levels, and more companies choose SaaS first.
"Basically it becomes a prerequisite for any kind of solution they look at in HR."
Known as "on-demand software", these programs utilize a delivery model in which the application is hosted on the cloud. They're accessible in the same way as e-mail, Facebook and Amazon from laptops, smartphones and tablets.
Here are five reasons SaaS helps recruit more employees:
1. Saves hours each day.
SaaS applications automate tedious processes that otherwise would require HR staff time, such as managing applicant information and scheduling interviews. SaaS platforms can manage the entire recruiting process with little or no staff effort.
2. Integration with your other software.
Many SaaS programs instantly integrate with computer programs you already use. For example, an online scheduling service can sync with your Google or Outlook calendars to reflect upcoming interviews.
3. Better applicant communication.
SaaS programs that house prospect data typically permit instant communication with applicants via e-mail or text message. This frees up the time otherwise needed to contact them manually. Reminder notifications can also reduce no-shows.
4. Accessible from your smartphone.
HR professionals are not always tied to their desktop computer. SaaS programs are easily accessible from mobile devices. Some even offer mobile apps for enhanced usability.
Learn how Appointment-Plus scheduling software can help you recruit more employees. Call 800-988-0061, ext.2.
#
About Appointment-Plus: Appointment-Plus improves interview scheduling for HR departments with online applicant scheduling, reminder notifications that reduce the no-show rate by 70 percent, and robust recordkeeping. It instantly syncs with Google and Outlook calendars.