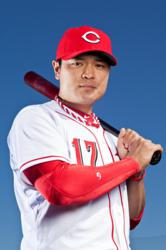 Choo has been a great Phiten advocate and we are excited to have him onboard as an official brand ambassador
Torrance, Ca. (PRWEB) April 16, 2013
Phiten®, the innovator and original maker of the titanium necklace and precious metal-infused sports accessories, announces a new endorsement deal with Cincinnati Reds outfielder, Shin-Soo Choo.
Choo joins fellow MLB players Justin Verlander, C.J. Wilson, Curtis Granderson and Yu Darvish as an official Phiten athlete. Choo began his baseball career playing for the South Korean national baseball team. At the 2000 World Junior Baseball Championship he was selected as the Most Valuable Player and Best Pitcher. His talents quickly caught the attention of MLB scouts and in 2005 Choo joined the Seattle Mariners. Choo is a long-time Phiten supporter who is often seen wearing a custom triple-twist Phiten Tornado necklace and the MLB Power Sleeve.
"I've always been a big fan of Phiten's accessories and support products and am happy to officially represent the company," said Choo.
Still in the prime of his career, Choo is starting his first season with the Cincinnati Reds. His eight year career in the U.S. is one of the longest and most successful MLB careers held by a South Korean player.
"Choo is a welcomed addition to the Phiten team," said Joe Furuhata, vice president of Phiten USA. "He has been a great Phiten advocate and we are excited to have him onboard as an official brand ambassador."
Choo joins an array of elite Phiten brand ambassadors that include stars from the MLB, NBA, NFL and more. To view Phiten's Official MLB Collection, visit http://www.phitenusa.com and http://www.MLB.com.
About Phiten®
Phiten is a leading designer and manufacturer of sports lifestyle accessories and produces necklaces, bracelets, supports and apparel developed for active, health-conscious living. Phiten's technology centers around Aqua-Metals, which are incorporated into every product. Phiten is worn by elite athletes all over the world but is truly for anyone inspired to live a healthy lifestyle. Phiten is a license partner and produces official merchandise for the NBA, MLB and NHL. Headquartered in Torrance, Calif., Phiten corporate stores are located in Torrance and Aiea (Honolulu), Hawaii and products are available at sporting goods retailers and professional sports stadium shops across the nation. For more information, please visit http://www.PhitenUSA.com. Facebook.com/Phiten @Phiten
# # #