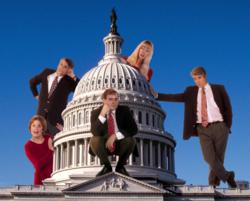 Modesto, CA (PRWEB) April 17, 2013
The Capitol Steps,a group founded in 1981 that uses topical humor and song parodies to satirize politics and politicians, will make their Gallo Center debut on Tuesday, May 7, at 7:30 pm.
Tickets range in price from $15 to $45, and may be purchased online at GalloArts.org, by calling 209-338-2100, or at the Gallo Center ticket office, 1000 I Street in downtown Modesto.
Since their founding, The Capitol Steps have recorded 18 albums, including six during the Clinton presidency: "Unzippin' My Doo-Dah," "Sixteen Scandals," "Return to Center," "A Whole Newt World," "Lord of the Fries," and "The Joy of Sax."
The troupe was born when three staffers for then Senator Charles Percy were asked to provide entertainment for the Senate Foreign Relations Committee Christmas party. The group first considered staging a traditional nativity play, but decided instead to dig into the headlines and hot topics of the day, creating new lyrics for familiar tunes. Their motto became: "We put the MOCK in democracy."
Although not all of the current members of 'the Steps' are former Capitol Hill staffers, taken together, the performers have worked in a total of eighteen Congressional offices and represent 62 years of collective House and Senate staff experience.
Many celebrities and politicians, some of whom have been targets themselves, have performed with the Steps: Vice President Gore, Sam Donaldson, Michael Dukakis and Larry King, to name a few.
Boyett Petroleum is the Gallo Center's premier partner for 2012-2013.