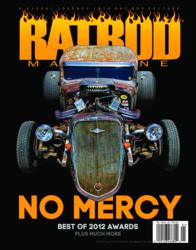 (PRWEB) April 16, 2013
I-5 Publishing announced today that it has entered a joint venture with Minnesota-based Rat Rod Magazine, bringing the breadth of its publishing services to accelerate growth of the content and community built around the award-winning bi-monthly.
"This is a great thing for all involved," said Rat Rod Magazine Publisher and Co-founder Steve Thaemert Jr. "I-5's resources will propel a magazine that is already lauded as inventive and original." Rat Rod Magazine received a 2012 Minnesota Magazine and Publishing Association (MMPA) Innovator Award for "successfully establish[ing] and execut[ing] a new concept in the magazine publishing business." It was also awarded a Gold Level Excellence Award for cover design from the MMPA in that same year.
"Rat Rod Magazine exemplifies the kind of passion-driven enthusiast community we want to serve," said I-5 CEO Mark Harris. "We are so pleased it is joining our portfolio of brands. It complements titles already in our portfolio like Auto Restorer, but clearly serves a distinct and different segment of the car enthusiast spectrum."
Thaemert and his team have built a strong foundation in the burgeoning rat rod community, resulting in strong newsstand sales and a loyal fan-base that spans nine countries. "We admire Steve's maverick sensibilities and are excited about the energy and buzz the title brings with it," said Harris. The partnership will enable Rat Rod Magazine to move to multi-platform publishing and grow its distribution and brand experience.
In addition to digital and print expansion of the brand, Rat Rod Magazine has a massive combination rat rod and motorcycle build-off competition/ town-to-town tour from Canada to Louisiana in the works for 2013.
Rat Rod Magazine was created in 2010 by Steve Thaemert Jr. and his father Steve Sr., who wanted to bring something "different" to the magazine world. Rat Rod Magazine has been recognized for its artistic design, high-quality photography and production, and low ad-to-content ratio. The magazine can be found in stores such as Barnes & Noble, Walmart, and other retail spaces across the U.S. and Canada. For more information about Rat Rod Magazine, visit http://www.ratrodmagazine.com.
I-5 Publishing is the leading provider of multi-platform content for special interest communities and brands. I-5 is part of the only truly full-service publishing services organization – offering brands a complete solution from generation of content to preparation for all platforms to distribution to mass market and specialty retailers and into consumers' homes. I-5 Publishing was founded in 2013 by Mark Harris and David Fry. I-5 Publishing is headquartered in Irvine, CA, with offices in Los Angeles, CA, Lexington, KY and Chicago, IL. For more information about I-5 Publishing visit http://www.i5publishing.com