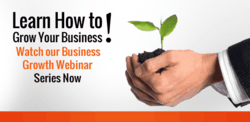 Reach new markets and build customer relationships!
Houston, TX (PRWEB) April 16, 2013
SalesNexus, provider of Customer Relationship Management and Email Marketing solutions for sales teams, today announced the release of its Sales Growth in 2013 series for instant access in video and ebook formats.
"In our mission to help businesses grow, our Sales Growth series was a huge success", said Craig Klein, Founder and CEO of SalesNexus.com. "We had over one thousand business owners and sales and marketing executives attend our 6 live sales growth webinars. Business owners and marketers are hungry for knowledge that helps reach their market and build customer relationships. We decided to create a complete set of 6 ebooks to go along with the video recordings of each webinar and make it all available free!"
Today, SalesNexus released the entire series of webinars as videos and ebooks available instantly on its website.
The series starts with a 5-step process for lead generation that makes traditional cold calling and email marketing obsolete. The additional 5 webinars and ebooks dive into the specific skills sets and knowledge required to execute the 5 step "Magic 5" system developed by SalesNexus.
The series includes one hour videos and in depth ebooks as follows:

"Building a Successful Marketing and Sales Process by Identifying Your Customer's Pain"
"How to Qualify Sales Leads and Focus on Sales Growth that's Profitable"
"Manage a Sales Process of Actions that Lead to Sales Growth"
"360 degree View of the Customer Relationship for Business Growth"
"4 Pillars of Effective Sales Messaging"
Read, watch and download all Sales Growth ebooks and webinars here - http://www.salesnexus.com/sales-growth-webinar-series/
"The webinar series has helped us refine how to teach an entirely new way to grow sales and reach new prospects via our partnership with LeadFerret.com and our automated email marketing capabilities," said Klein. "These two additions will fully round out the series so all methods of prospecting for new business will be covered."