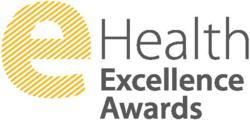 Our vision is to engage, connect and respond to our patients and their families for health and wellness information
Birmingham, Alabama (PRWEB) April 15, 2013
MEDSEEK, the only provider of a comprehensive patient influence platform for the healthcare industry, today announced ProMedica Health System as the overall winner of the eHealth Excellence Awards. The award was presented at the 2013 MEDSEEK Client Congress in Austin, Texas.
ProMedica was chosen as the overall winner in recognition of their eHealth vision and organizational commitment. "Our vision is to engage, connect and respond to our patients and their families for health and wellness information," states Kathleen Merrill, Associate Vice President of Marketing and Advertising for ProMedica. Ms. Merrill along with, Leandra Hutchinson, Manager of Marketing and Mike Mikosz, Manager of Interactive Media were present at the ceremony to accept the award on behalf of the Toledo, Ohio based ProMedica Health System.
As a healthcare system providing care for 2.6 million patient visits annually and with more than 2,046 licensed inpatient beds, ProMedica saw the need for a clear vision and strategy to meet not only the growing needs of the communities they serve but the increasing government requirements around Meaningful Use. ProMedica engaged with MEDSEEK early on to establish a digital strategy and a roadmap to achieve their goals. "Establishing a clear strategy has been critical for bringing ProMedica's vision to fruition. The MEDSEEK team helped to evaluate the many ideas and initiatives within ProMedica, and guide our priorities as technology and expectations changed," says Ms. Merrill.
"ProMedica's vision for the future of digital health shows their commitment to advancing the patient experience and MEDSEEK is proud to a part of that vision," states Dale Edwards, EVP, MEDSEEK. The organization's most recent project with MEDSEEK is the deployment of a patient portal. "ProMedica is preparing to exceed Meaningful Use guidelines and in the process, they are revolutionizing patient care," Edwards explains.
When asked about ProMedica's digital health strategy, Merrill says, "Creating a seamless digital patient experience is critical for ProMedica's long term growth and success. We continue to integrate the technology to meet the expectations and needs of our patients and their families. The health care consumer is no longer focused on just the transactions with their health care provider, but the engagement and information the system provides."
About ProMedica Health System
Established in 1986, ProMedica is a locally owned, nonprofit healthcare organization serving northwest Ohio and southeast Michigan. Driven by the mission to improve the health and well-being of their patients, we offer a full range of diagnostic, medical and surgical specialties in areas such as emergency medicine and trauma, heart and vascular, oncology, orthopedics, neurology, and women's and children's services. Today, ProMedica – a committed team of dedicated experts, passionate volunteers and inspired advocates – is recognized nationally for the consistent, high-level care that we provide our communities.
About the eHealth Excellence Awards
MEDSEEK was founded on the premise that the Internet could improve the collaboration between healthcare providers and patients. Since 1996, MEDSEEK has worked with hundreds of organizations to virtually engage, activate and influence patients. The eHealth Excellence Awards program is designed to recognize organizations for their innovation and cultural commitment to improving healthcare using digital solutions.
About MEDSEEK
Since 1996, MEDSEEK has focused exclusively on building software to help hospitals and health systems virtually influence prospects and patients before and after a physical encounter. Today, the MEDSEEK Influence platform integrates web, mobile, social, predictive analytics and relationship management solutions to help organizations drive profitable volume, improve individual and population health, increase patient satisfaction and create lasting health-related loyalty. Birmingham, AL-based MEDSEEK is proud to serve over 200 customers representing over 1,000 hospitals including many of the top hospital systems in the United States and Canada.