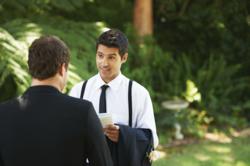 Help a brother out
Cleveland, OH (PRWEB) April 16, 2013
Wedding season is just around the corner. Brides-to-be are aware of this and probably have many different ways of organizing their to-do lists. However, Laugh Staff wants to remind the best men of their own responsibilities for the big day. In addition to preparing a funny best man speech, best men need to prioritize their other duties.
Real Simple has broken it down for best men by providing a checklist of things to consider for the wedding. It might be a friend or family member's wedding, but a little help can take some of the pressure off the bride and groom. For example, Real Simple suggests that the best man organize the groomsman's tux fittings and arrange lodging for out-of-town groomsmen.
"You know the groom would do the same for you, so you really should step up and take some of things off the groom's to-do list, "said Laugh Staff co-founder Josh Womack. "Planning the bachelor party might be the best part of the job, but be a pal and try to take some of the more serious tasks too."
Real Simple also suggests that the best man take charge of any fees that need to be handled the day of the wedding, such as fees for the musicians, wedding officiant or any other participants from the groom. And of course, the best man needs to make sure he knows where the rings are if there is no ring bearer.
After handling everything Real Simple has outlined for best men, giving a hilarious best man speech should be a snap. Planning ahead can alleviate any worry the bride and groom may have about their big day. It can also prevent any group of people from becoming the next wedding fail.
For more information about Laugh Staff, Inc. visit http://www.laughstaff.com, call 740-706-6690 or email info(at)laughstaff(dot)com.
About Laugh Staff, Inc:
Laugh Staff, Inc. was founded in 2012 by a team of comedians and writers in Cleveland, Ohio. Laugh Staff helps their clients with best man speeches as well as providing best man speech examples on their blog. They assist best men and maids of honor in speech-editing, speech writing, and provide training on speech delivery. Recognizing the importance of the big day, Laugh Staff's professional comedians work with best men and maids of honor to ensure they make a lasting impression.