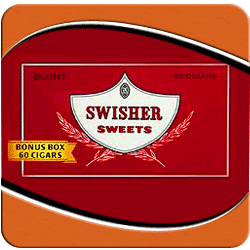 Miami, FL (PRWEB) April 17, 2013
TrueTobacco.com is excited to announce that they will add to their collection of Swisher Sweet cigar flavors. The beloved brand will be available for your enjoyment for as little as $15.49.
Swisher Sweet cigars, one of America's favorite cigars, are made with the finest tobacco. There are many varieties of these smokes, some including Swisher original cigars, BLK, the first pipe tobacco cigar, little cigars, filter top cigars and flavored stogies. Each type of smoke leaves an unforgettable impression on its consumer.
"Not only do Swisher Sweets taste great, but they smell just as great too," said Nick Gordon, general manager of TrueTobacco.com. "These cigars never disappoint and we're excited to bring new flavors online for our customers to purchase."
TrueTobacco.com will add to its current list of fruit flavored Swisher Sweet cigars and cigarillos, Swisher Originals, Swisher Blacks and Swisher Naturals. The online company provides its customers with over 30 different types and sizes of Swisher Sweet cigars.
About Swisher Sweet Cigars
Produced by Swisher International, Swisher Sweet Cigars continue to strive in an aggressive marketplace. With innovative techniques and the finest products, Swisher Sweets deliver on taste and quality.
About TrueTobacco.com
TrueTobacco.com is an online cigar store committed to serving its customers. They offer many different types of cigars to fit the needs of any smoker at a highly affordable price.