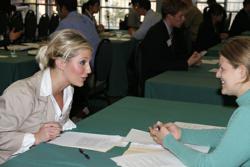 Scottsdale, AZ (PRWEB) April 17, 2013
According to CareerBuilder.com's latest forecast, stable hiring is expected for the second quarter as U.S. employers continue to analyze a job market that is producing moderate economic growth.
At the same time, the number of companies hiring recruiters is rising. Wanted Analytics, the leading source of real-time business intelligence for the talent marketplace, says the number of jobs posted online for HR positions in February 2013 was up 14 percent compared to February 2012.
This translates into continued competition among job recruiters in attracting top talent.
Here are four tips for finding the best candidates:
1. Focus on LinkedIn.
Recruiters can tap into a large pool of candidates who identify themselves through professions, skill sets and current/past employment history. This helps them focus specifically on potential prospects that meet their search criteria.
LinkedIn continues to grow in popularity as an effective recruiting tool. As reported in a survey by Boston-based technology company Bullhorn, 97.3 percent of respondents said they used LinkedIn in 2012 as part of their candidate searches.
2. Emphasize the benefits.
Salary alone may not sway a perfect candidate from accepting an offer. Benefits such as health insurance, tuition reimbursement and 401k can be just as important. 74 percent of respondents to a Monster.com survey rated an attractive benefits package as very important.
3. Promote the company culture.
The work environment is a determining factor for many applicants. According to the same Monster survey, the top-rated wish list item is a company "that truly cares about the well-being of its employees." Highlight company perks such as telecommuting options and work-family considerations.
4. Use internal referrals.
Current employees can be a terrific source for new talent. As reported in The New York Times, employee recommendations at accounting firm Ernst & Young now account for 45 percent of its nonentry-level placements, up from 28 percent in 2010.
Learn how Appointment-Plus online scheduling can improve your recruiting efforts. Call 800-988-0061.
#
About Appointment-Plus: Appointment-Plus online scheduling software helps the recruiting process with online applicant scheduling, automated reminders that reduce no-shows by 70 percent, and robust record-keeping. It instantly syncs with Google and Outlook calendars.