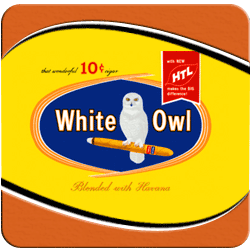 We will now carry a large assortment of White Owl products.
(PRWEB) April 16, 2013
American made, White Owl Cigars will now be available for purchase on TrueTobacco.com. These stogies run at a commonly low price and will now be featured on the website.
White Owl Cigars were first created in 1887 and are machine made sticks. As of 2011, they are produced in the Dominican Republic. White Owl creates virtually any type of smoke, including cigarillos, blunts, wood tips, mini sweets, sport and many others. The flavors of the smokes range anywhere from sweet fruit flavors such as grape or strawberry to more mellow flavors such as champagne.
Nick Gordon, general manager at TrueTobacco.com believes that the purchase of a White Owl product will be a pleasing experience to the company's customers.
"We will now carry a large assortment of White Owl products that can satisfy even our pickiest customers," Gordon said. "Each product we have is completely different from the next and the flavors range on a broad spectrum."
The flavors that TrueTobacco.com will carry range from peach, strawberry and grape blunts to other fruit flavored cigars and cigarillos. Some of the sticks run as low as $30.49 a pack.
###
About White Owl
Known for its exotic flavors, White Owl products range from cigarillos, blunt wraps, flavors and cigars to give its smoker the best possible experience. White Owl products are available in mild or mild-medium strength.
About TrueTobacco.com
TrueTobacco.com is committed to serving its customers to the fullest potential. They provide a listing of high-quality, low-cost smokes for the public. TrueTobacco.com has a one of the largest selections of tobacco products available anywhere. To find out more regarding this new product, visit:
http://www.truetobacco.com/product-category/cigars/cheap/buy-cigarillos-online/white-owl-cigars-cigarillos/