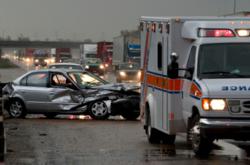 The so-called 'Act of God' often has very human roots.
Sacramento, CA (PRWEB) April 15, 2013
The winds of recent days have caused damage and injury to several northern California residents, including a 17-year-old Patterson girl who was hit by a falling tree.
The girl said she was walking near her school with her friends when suddenly she heard a crack and then "couldn't breathe."
What the young girl did not realize at first was that she was pinned beneath a 70-foot tree that had been toppled by the high winds. Although the teen says she panicked, her teacher and paramedics arrived quickly to help. The girl's father, who happened to be a city employee out cleaning up debris from the windstorms, heard the call and rushed to the scene as well. He said that although he feared the worst at first, when his daughter looked up and said, "Hi, Dad," he knew she would be all right.
The teen was very fortunate. The tree that struck her was a 70-foot pine tree. Had the tree struck her in a slightly different way or had she fallen in a different position, she could easily have been killed. Instead, she suffered only minor injuries.
Earlier this month high winds have caused damage including toppled trees, property damage and injury to northern California residents. Sacramento city employees received at least 38 calls regarding tree issues, including toppled trees and one that dropped its limbs on a vehicle.
Winds reached 40 miles per hour in the Sacramento Valley during the early part of the week. Weather officials note that this situation was not record-setting but included enough sustained high winds to do significant property damage. Customers also briefly lost power and several roads were closed due to downed limbs.
Tuesday's winds were projected to have gusts of 30 to 40 miles per hour. City officials hope that the pro-active pruning practiced by the city around power lines will help prevent more damage and outages.
While the system that spawned these winds is moving away, there may be a few more days of high gusts before the weather changes completely. The rest of the week, winds will gradually decrease.
Victims who suffer injuries due to falling tree limbs or debris may be entitled to collect damages from the people who caused their injuries through negligence or carelessness. Attorney John Demas notes, "The so-called 'Act of God' often has very human roots. For example, it is not really an accident if a neighbor refuses to prune dangerous limbs on his trees and then a limb falls on your home during a windstorm. Victims who have been injured by someone else's negligence have the right to collect damages from the person who ultimately caused their injury."
About Demas Law Group: Demas Law Grou p is a Sacramento personal injury firm representing victims of accidents such as motor vehicle collisions, injuries from defective products, dog bites and nursing home abuse.
Sources: KCRA, "Wind knocks 70-foot tree onto Patterson teen," Janet O, April 8, 2013.
Sacramento Bee,
http://www.sacbee.com/2013/04/13/5339237/warm-and-breezy-to-give-way-to.html