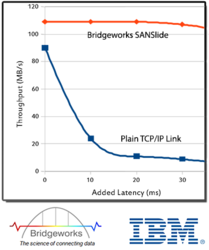 Improving bandwidth utilisation to over 95%
Christchurch, UK (PRWEB) April 16, 2013
Bridgeworks, the world's leading storage protocol bridge manufacturer, today announced IBM certification of the Bridgeworks SANSlide Series 150 V7KSVC with its Storwize V7000 virtualised storage systems. The combination of SANSlide and the Storwize V7000 provides a powerful solution for those customers who require an efficient IP-based replication over long distances.
To date Bridgeworks has shipped and licensed over 25,000 products worldwide, helping organisations to take advantage of the latest advances in storage networking technologies whilst maximising their existing investments in devices and SANs. This proven track record coupled with innovative technology brought IBM and Bridgeworks together to accelerate remote replication for customers across global networks. An IDC study from July 2012 found that in many environments, creating and managing multiple copies of data has now exceeded the cost of primary storage, forcing many organisations to seek new ways of ensuring data availability, such as exploiting long distance IP replication. SANSlide's economical acceleration of IP-based replication over long distances brings the next generation of optimisation to all data-intensive industries.
Bridgeworks is the only company that gives IBM's V7000 customers a fully supported, transparent technology that includes unmatched levels of performance and reliability. With SANSlide's protocol acceleration technology it is now possible to replicate data across continents in a cost efficient way with little or no loss in performance and improving bandwidth utilisation to over 95% instead of the 1-5% normally achieved in long-distance IP networks.
Randy Kerns, senior strategist at the Evaluator Group, said, "The Bridgeworks SANSlide brings an economical replication connection to the IBM Storwize V7000 with use of IP-based networking. With an effective utilisation of network bandwidth and simplicity of operation, the SANSlide should be very popular for remote replication with the V7000."
SANSlide is the only block level storage protocol accelerator. By working at the block level, it allows the SANSlide node to connect directly to V7000/SVC and requires no modification to the V7000/SVC or to how the remote replication set-up is configured and administered. Unlike other acceleration methods, the type of data transmitted does not affect the performance of SANSlide. Encrypted, compressed, or video files - SANSlide handles them all without any degradation of its performance.
David Trossell, CEO of Bridgeworks, believes that the partnership with IBM is just one of many exciting developments on the cards for Bridgeworks. "We have been around for 30 years and this is no small feat. We are the trusted experts in working with all the disparate storage protocols. Developments such as the partnership with IBM tell us that SANSlide with its ability to accelerate all the block level storage protocols for all storage technologies is the right solution at the right time. Customers in the US and Europe have achieved a near-immediate ROI with SANSlide. This is going to be a very exciting phase for the company."
About Bridgeworks
With a 30-year history of technical leadership, Bridgeworks is a long-established innovator in connectivity solutions for the data storage market that are designed, manufactured and marketed for end users (such as CVS), OEMs (such as Dell and Spectra Logic) and channel partners (such as Agilesys, CorpTech, DIS UK, and Zycko). Bridgeworks uses its wealth of experience in this field to solve one of the long-standing issues of how to transmit data over vast distances across both private and public networks using TCP/IP with little or no impact on performance.
For further information please contact +44 (0) 1202 588 588 or http://www.4bridgeworks.com