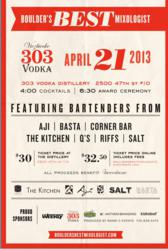 this is an awesome event. Getting everyone together for a late Sunday afternoon tasting is great - and the fact that it benefits a worthy cause...it's what Boulder is all about
Boulder, Colorado (PRWEB) April 16, 2013
Boulder, Colorado has evolved into what is known as a food hub, and what is better with food than a great glass of wine, beer or a cocktail? With top restaurants such as Aji, The Kitchen and Salt (among many others), it's no surprise that an event with such restaurants draws attention - even more so, an event that benefits a worthy cause is worth raising a glass to -a glass of 303 vodka that is!
On Sunday, April 21, 2013 from 4 PM - 6:30 PM, seven of Boulder's top restaurants will be sending their premier "mixologists" to gather at 303 Vodka to create tasty and original cocktails using only spirits made by 303 Vodka. A portion of the proceeds will benefit There With Care, a Colorado nonprofit that aids children and families faced with critical illness.
The best mixologist will be decided by the people of Boulder. Those who attend will get to taste each elixir and by the end of the event, votes will be placed and a winner announced. The winner will receive a custom, glass-blown trophy and of course bragging rights as the best mixologist in Boulder.
The seven restaurants sending a mixologist are: The Kitchen, Corner Bar, Q's Restaurant, Aji, SALT, Basta and Riffs.
This is the 3rd year in a row that 303 Vodka has put on the event, and they couldn't be more excited. Event Coordinator, Randi Curtis expressed, "this is an awesome event. Getting everyone together for a late Sunday afternoon tasting is great - and the fact that it benefits a worthy cause...it's what Boulder is all about."
There With Care is a 501(c)(3) nonprofit whose mission is to provide a wide range of thoughtful and fundamental services to children and families during the critical phase of a medical crisis. To learn more about There With Care visit http://www.therewithcare.org .
To purchase tickets for Boulder's Best Mixologist contact Randi Curtis, randi(at)303vodka(dot)com. Tasting begins at 4:00 PM and the awards ceremony takes place at 6:30 PM. For more information visit http://www.bouldersbestmixologist.com.
About 303 Vodka: 303 Vodka has a history rooted in family. Pete Viezbicke Sr. came to the United States in 1907 - sent by his parents to avoid WWI. In his steamer trunk was a treasured family potato vodka recipe unbeknownst to him. After his passing in the 70s, his grandson Steve Viezbicke appeased the inventor and mad scientist inside and tinkered with the recipe until he created the smell he remembered as a child - and so 303 Vodka came to be. At 303 we want you to come in and feel the environment where the magic happens. Sit outside and enjoy a drink, grab the bar guitar and play a little, or come be a part of one of our many eclectic and community centered events! Visit http://www.303vodka.com for more information.