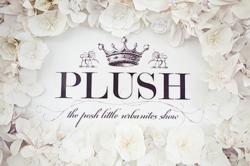 PLUSH exudes a level of incomparable exhibitors and sponsors, and in terms of our capabilities and resources, it was absolutely necessary to feature guest speakers of the similar stature.
Los Angeles, CA (PRWEB) April 16, 2013
Jina Park, CEO and Founder of PLUSH, heightens the unprecedented growing success of the 2013 PLUSH Show by revealing guest speakers Jennifer Sbranti and Jason Okuma. New hire Jonathan Walton joins the PLUSH team as their Logistics Director to further the success of the annual PLUSH luxury baby and toddler trade and consumer show upcoming June 7th-9th, 2013 at the Hyatt Regency Century Plaza, in Los Angeles, CA.
"PLUSH exudes a level of incomparable exhibitors and sponsors, and in terms of our capabilities and resources, it was absolutely necessary to feature guest speakers of the similar stature," said Jina Park, CEO and Founder of PLUSH.
Jennifer Sbranti, of Hostess with the Mostess, will add exceptional insight on planning unique and contemporary parties to attendees on PLUSH's consumer show day.
"I'm really looking forward to participating in PLUSH this year, and can't wait to share some of my favorite party styling ideas and DIY projects with all of the moms and moms-to-be," said Jennifer Sbranti. "Motherhood presents so many opportunities for imagination and creativity… especially when it comes to celebrating!"
On PLUSH Show's business trade show day, Jason Okuma, a well known trainer and educator on the complexities and technologies of Social Media, will speak on simple and tactful methods which will help retailers to grow their respective business on a new level.
PLUSH's newest hire, Jonathan Walton, joins as the Logistics Director. As a Juvenile Industry expert, he specializes in trade show organization, logistics and event client relations within the endless intricacies of the industry. Continued Jina Park, "With an impressive client list, experience and education in the trade show environment, Jonathan Walton's addition to the team is of great value and future success to our show's expansion."
SPEAKER SCHEDULE
JASON OKUMA: JUNE 8th, 2013 – BUSINESS TO BUSINESS DAY – Simplifying Social Media Marketing for Small Business
JENNIFER SBRANTI: JUNE 9th, 2013 CONSUMER DAY – Creative Ideas & Clever Techniques to Make Any Party POP
ABOUT JENNIFER SBRANTI
Jennifer Sbranti is a graphic designer and founder of Hostess with the Mostess® (HWTM), a hip and modern party planning resource where creativity is always the life of the party! HWTM brings stylish entertaining ideas to light through an inspirational "how-to" website, creative online community, and popular daily blog. Having hosted countless celebrations herself, ranging from special occasion showers for friends to large corporate events, Sbranti now shares her contemporary style and outside-the-box approach to entertaining with others. Her ideas have been featured in media outlets such as The Today Show, People, InStyle Weddings, Pregnancy, and Everyday with Rachael Ray. Sbranti resides in San Diego with her husband (and HWTM co-founder) Sonny Sbranti and their 2 young daughters, Macy and Rylie.
ABOUT JASON OKUMA
Jason Okuma is the CEO and President of JATI, Inc., a Beverly Hills, California business development, marketing and public relations agency that provides solutions for companies in the technology, start-up and luxury industries. As a well-known and seasoned entrepreneur he is a highly sought after consultant and advisor as companies and business owners regularly reach out for his valuable insights and guidance for developing and growing businesses.
With over 20 years of experience, Jason Okuma is also a trainer and educator in the areas of business and marketing with a vast audience of influencers, entrepreneurs, business owners and professionals around the world. He specializes in effectively utilizing the power of Social Media Marketing to build and grow businesses and has been engaging with consumers and businesses through Social Media by discovering practical ways to use Social Media Marketing to develop customer loyalty, attract new business and generate increased sales.
ABOUT JONATHAN WALTON
Jonathan Walton is an expert in the Juvenile Industry who has dedicated his career specializing in trade show organization, planning, client relations and logistics all while finishing the prestigious Certified Exhibits Manager (CEM) course. His previous clientele includes a wide array of manufactures and retailers including Fisher Price, Graco, Chicco, and Dr. Brown's all while holding a position at ABC Kids Expo. Walton's prominent experience in trade shows has established strong contacts along with unparalleled knowledge, a perfect addition as Logistics Director at PLUSH. He currently resides in San Antonio, Texas with his wife Carey Walton and their son Luke Walton.
ABOUT PLUSH
PLUSH is a baby and toddler trade show dedicated to all the posh and eco-conscious retailers and parents who are continually setting the next big trend. Unlike other juvenile shows in the industry, PLUSH sets itself apart by being one step ahead, and selecting vendors that are worth the time and consideration. Jina Park uses endless research on what today's modern parents are seeking and finds the best, most innovative, eco-friendly, and luxurious products on the market, and places them all in one location for retailers, consumers, and media. PLUSH adds the incredible dimension of entertainment and mainstream media coverage and A-list celebrity marketing opportunities to a juveniles industry show. PLUSH 2012 had The Honest Company's Jessica Alba as their title sponsor, and previous celebrity hosts from 2011-2012 included Catt Sadler, Jason Kennedy, and John Salley.
The upcoming PLUSH 2013 show has now expanded to B2B with an upcoming 3-day trade show June 7th – 9th, 2013 at the Hyatt Regency Century Plaza, located at 2025 Avenue of the Stars, Los Angeles, CA 90067. Registration for PLUSH 2013 is now open. For more information: plushshow.com.