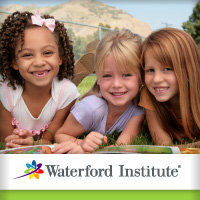 Cloud-based delivery will improve access to our learning programs for all learners and educators.
Salt Lake City, UT (PRWEB) April 17, 2013
Waterford Research Institute, leader in providing high-quality digital learning for early childhood, today announced that they will launch several new cloud-based educational programs in phases, beginning in Q2 of this year. Dr. Benjamin Heuston, president of the non-profit organization, states that, "Cloud-based delivery of our learning programs will fundamentally improve access to our learning programs for all learners and educators, and will necessarily alter the Institute's relationship with educational institutions, students, educators and parents."
This announcement comes on the heels of two significant events for Waterford: the Software and Information Industry Association (SIIA) designation of Waterford Early Learning as a finalist for the prestigious CODiE Awards in three categories, and Waterford's impactful Early Education and Technology for Children (EETC) conference, held in early April.
Dr. Heuston elaborated on the impact of the announced technology shift and new products, saying, "During the past 17 years Waterford has enjoyed an exclusive distribution relationship with Pearson in the United States K-2 public school market that has successfully introduced the Waterford Early Learning programs to millions of students in this country. However, our desire to expand our reach and be more directly involved with our customers necessitates this change to our distribution approach."
In response to evolving markets and technologies, Waterford Research Institute will be delivering their educational programs directly to schools. Waterford and Pearson have agreed to end their distribution agreement effective December 31, 2013.
About Waterford
Waterford Research Institute (http://www.waterford.org) is a nonprofit research center dedicated to providing every child with the finest education through the development of high-quality educational models, programs, and software. Founded by Dr. Dustin Heuston in 1976, Waterford uses rigorous research to build award-winning, proven educational programs. Since creating the first educational videodisk, Waterford continues to be at the cutting edge of technology-delivered instruction. Today, Waterford Research Institute is an international leader in preschool through second grade software for reading, math, and science programs and has reached millions of children globally. For more information, visit http://www.waterford.org or contact 801.349.2200.