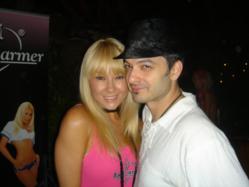 The two most important things a guy should learn to convey in how to talk to women is an attitude of confidence and nonchalance.
San Mateo, CA (PRWEB) April 21, 2013
Any guy who goes up to a woman and kicks off a conversation with her like he would one of his male friends is setting himself up for certain failure, says Dating Expert Carlos Xuma in his new report on how to talk to women.
"Walking up to a woman and treating her like she is another guy is going to be a major turn off," says Xuma in his new report. "But the opposite strategy — walking up to a woman and showering her with praise and compliments is going to equally backfire."
There is a way to talk to women, Xuma says. And it involves, among other things, a man treating women a bit like he would his best friend's little sister.
"This is a great strategy for men to take," says Xuma. "It conveys a level of confidence and familiarity and allows an important element of teasing to seem completely natural. Any guy who walks up to a cute girl and treats her this way is almost always going to find it much more successful than treating her like another dude or like some pristine princess on a pedestal."
Xuma's new report gives specific tips and techniques that show how men can learn to take on this attitude of nonchalance with women in a way that makes it seem and come across as completely natural.
"The two most important things a guy should convey when he is getting ready to talk to women, or is already in conversation with her, is an attitude of confidence and nonchalance," Xuma says. "These two traits count more than anything else when it comes to building attraction with a girl a guy has just met."
These are not the only of the specific ways that Xuma's report outlines by which guys can exude confidence and nonchalance in every interaction with women.
"It isn't that hard, but it does take having a bit of knowledge," Xuma explains. "Most guys can be successful in talking to women in this way within a very short time period. It doesn't take long, but it does involve some practice. But more than anything, it involves a guy changing his mindset and therefore, sending out signals and vibes about how he wants others to see him."
As Xuma says, it is the difference between walking into a party feeling insecure and walking in ready to conquer the world.
"Thoughts have power and the sooner a guy in the dating world realizes this and harnesses that power, the more success he will find," says Xuma.
Carlos Xuma has appeared on ABC and CBS television, as well as Playboy radio. He has also been a dating expert and attraction adviser for more than 10 years and has spent years teaching hundreds of men important dating skills, such as how to flirt with girls, how to seduce a woman, and how to talk to women. Xuma is the author of numerous articles and books, including The Bad Boy Formula, Secrets of the Alpha Male, the Girlfriend Training Program.
For more information, visit Carlos Xuma's website at http://www.datingdynamics.com/