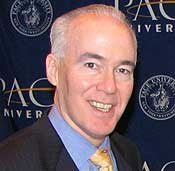 New York, NY (PRWEB) April 15, 2013
Ryan was a consultant to the Office of Domestic Preparedness of the Department of Homeland Security from 2002 – 2010. Retired from the New York Police Department (NYPD), Ryan is a Certified New York State Police Instructor for New York City and Westchester County Police Departments. For more details on Ryan's extensive background, see his CV.
About the homeland security Master's at Pace:
Pace University, whose Manhattan location is just blocks away from the World Trade Center site, offers an executive Master of Arts (MA) in Management for Public Safety and Homeland Security Professionals.
This graduate-level emergency management degree program, which is primarily online, prepares public and private sector law enforcement, military, fire, public health, and other safety and security professionals to respond to and prevent future attacks using existing resources.
This program is in partnership with the Center for Homeland Defense and Security.
Joseph Ryan, PhD
Criminal Justice and Security Department Chair
Pace University
jryan(at)pace(dot)edu
(914) 773-3814