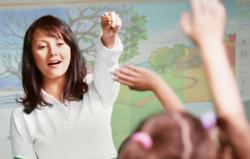 Teachers can customize lessons with content designed for CCSS.
Salt Lake City, UT (PRWEB) April 26, 2013
The non-profit Waterford Research Institute announced today the launch of Classroom Advantage, an instructional tool aligned to the Common Core State Standards (CCSS) and aimed at the US school market. Waterford president Dr. Benjamin Heuston noted: "Technology provides a key way for teachers to implement the CCSS in their classrooms. With Classroom Advantage, teachers can customize their lessons with content designed for the common core while maximizing the use of whiteboard technology in their classrooms."
Used on its own or in conjunction with Waterford's highly successful individualized instructional tools, Classroom Advantage is a cloud-based library of learning activities for large and small group instruction at the front of the classroom. Teachers can leverage pre-defined sequences of activities or they can create custom playlists from over 4,800 songs, books, lessons, games and other interactive activities.
Waterford Research Institute will showcase Classroom Advantage at the ISTE Conference in San Antonio, TX in June 2013. Attendees can visit exhibit booth 2265 for an interactive demo.
Available June 2013, Classroom Advantage will be offered directly to schools through the Waterford Research Institute.
About Waterford
Waterford Research Institute (http://www.waterford.org) is a nonprofit research center dedicated to providing every child with the finest education through the development of high-quality educational models, programs, and software. Founded by Dr. Dustin Heuston in 1976, Waterford uses rigorous research to build award-winning, proven educational programs. Since creating the first educational videodisk, Waterford continues to be at the cutting edge of technology-delivered instruction. Today, Waterford Research Institute is an international leader in preschool through second grade software for reading, math, and science programs and has reached millions of children globally. For more information, visit http://www.waterford.org or contact 801.349.2200.