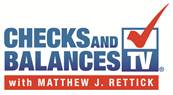 Nashville, TN (PRWEB) April 16, 2013
Matt Rettick, long-time Nashville resident and financial insider, announces the official launch of Checks and Balances Financial Radio. This entertaining and informative hour-long program airs every Saturday at 10:00 AM on News Radio 1510, WLAC. The show is designed to give detailed insight in to what current financial headlines really mean to consumers and their finances and provide balanced financial advice. The show rebroadcasts through its website http://www.ChecksandBalancesFinancialRadio.com.
"Americans are in a financial dilemma today," explains the show's host and creator Matt Rettick, a leading authority on personal finance. "There is so much misinformation out there. Now, more than ever, retirement savers and investors alike need comprehensive and current inside information so they can make informed financial decisions. Checks and Balances Financial Radio with Matt Rettick provides just that."
The weekly show puts current events in perspective, debunks common financial myths, offers relevant strategies for gaining financial freedom, answers frequently asked questions and examines consumer responses to personal financial issues. Other notable segments of the radio program include The Truth About… series, an overview of the pros and cons to each financial product or investment, and The Financial Blunders of the Rich and Famous, demonstrating by example why financial and estate planning are so important and what could go wrong if one does not take the time to plan in advance. Topics addressed on the show are explored further on the website, where listeners can sign up for a weekly newsletter, watch informative videos and even take educational courses.
The show's host, Matt Rettick, "The Man with the Plan," is a 20-plus year veteran of the financial services industry. He saw the need to provide the American public with easy-to-access comprehensive financial truth, unbiased insight and balanced advice so they would have the information they need to make educated financial decisions and a chance to financially succeed now and throughout retirement. As a financial insider, Matt Rettick is committed to delivering no-nonsense clarity on financial issues. He is a published author, accomplished speaker, sought-after educator and has successfully founded and led several financial services organizations throughout the course of his career. Now, in his latest venture, his vision for this radio program is to give listeners a platform where financial truth and balanced advice finally meet.
Checks and Balances Financial Radio with Matt Rettick is part of Checks and Balances TV. CBTV is committed to bringing financial truth and balanced advice to the nation through its site, shows and educational products and offerings.
ABOUT CHECKS AND BALANCES TV
Checks and Balances TV (CBTV) is America's #1 source for balanced financial advice. Through its weekly educational programs and interactive website, CBTV provides viewers and users free access to a variety of informative videos and podcasts, downloadable reports, tips, tools and techniques and more to help consumers achieve financial freedom and retirement success. Become a 21st Century Investor, prepare for a Debt Free Retirement and discover what is Financial Fact or Fiction on http://www.ChecksandBalances.TV. The show's host, Matt Rettick, the "Man with the Plan," gives you the truth you need to financially succeed each Friday at 4:00 p.m. EST. Log on, tune in, download from and interact with Checks and Balances TV, where financial truth and balanced advice finally meet.
The founding sponsor of Checks and Balances TV is American Equity Investment Life Insurance Company. To learn more about American Equity, visit http://www.American-Equity.com or call (877) 633-6417.