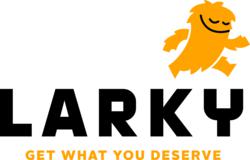 Users could save $1,000 or more per year by using the member discounts they deserve.
Ann Arbor, MI (PRWEB) April 16, 2013
Serial entrepreneurs Andrew Bank and Gregg Hammerman, who previously co-founded Techstreet, a digital information platform acquired by Thomson Reuters, recently raised a seed round of $650,000 for their new venture, Larky, the world's largest platform of member benefits, perks and discounts. Attracting early-stage seed capital from prominent VC firms and angel investors, the company just launched their new web and mobile solution that saves consumers money by helping them get all the member discounts they deserve from their association memberships and loyalty programs.
North Coast Technology Investors led the seed round along with the First Step Fund, and the Michigan Pre-Seed Capital Fund – giving the State of Michigan an equity stake in a promising start-up based in tech-heavy Ann Arbor, MI.
"120 million Americans belong to three or more memberships which give them valuable perks and discounts. Users could be saving $1,000 or more per year by using the discounts they deserve, but most of these savings are missed because users have terribly low awareness and they don't remember to use their member benefits at the right time and place," observed Bank. "Members are spending more than they have to. This is also a problem for associations and merchants because they're not getting the positive effects on renewal rates and loyalty. Larky solves that problem for everyone involved."
Larky is free, fun and intuitive for consumers, who end up saving money with the "set it and forget it" philosophy – they go through the easy 60-second sign-up process and then just let Larky work for them in the background. No confidential information is required and users don't have to enter any membership numbers or passwords. Each user gets a personalized "perks dashboard" showing all their perks and discounts across all their memberships. The free Larky iPhone app alerts users when they are physically near a member discount. So before they pay full price in a store, Larky reminds them of their membership discount and provides the information needed to redeem it.
And Larky's forthcoming browser plug-in will alert users of member benefits when they are searching or buying online.
Larky covers thousands of membership organizations including AAA, AARP, USAA, AFL-CIO, Blue Cross-Blue Shield, as well as alumni, professional, shopping, travel, credit cards, and many more. "Larky users are constantly surprised to get discounts they never knew they had," says Bank. "And by increasing awareness and usage of member benefits, the organizations get a new way to demonstrate value to members, thereby strengthening loyalty and increasing renewal rates."
Before even launching their product, Larky had established partnerships with ten membership organizations that will now promote the service to their audience, a total of about 600,000 members. There are dozens more partnerships in the pipeline including major credit cards, health insurers, and other large member groups.
Bank and Hammerman are using funds from the seed round for product development, growing the company's user base and bringing additional association and merchant partners on board.
About Larky
Larky is designed for anyone who has ever bought something and later realized they could have paid less by using member discounts or perks they forgot they had. Larky helps consumers save $1,000 or more per year by getting all the discounts they deserve from their memberships. Larky sends reminders at the right time and place so members don't miss a thing. It's serendipitous delight. And it's free. Find out more at http://www.larky.com.