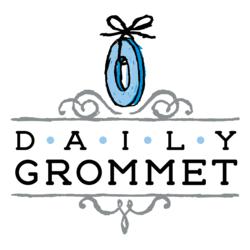 Daily Grommet is proud to feature AVPpet and knows the importance of high quality pet products.
Lexington, MA (PRWEB) April 16, 2013
Daily Grommet, an online shopping site and product launch platform for innovative and undiscovered products, is working with AVPpet, water fountains for small dogs and cats.
Daily Grommet is proud to feature AVPpet and knows the importance of high quality pet products. The natureSPA from AVPpet circulates a continuous flow of water that passes through a charcoal filter to absorb odors and impurities. The filtered water is aerated, so it's full of beneficial oxygen. Plus, the moving water keeps dust from settling on the surface. The blue LED nightlight makes it easy for pets to use the fountain at night (and keeps pet owners from tripping over it in the dark). An optional UV sterilization feature reduces the presence of microorganisms and bacteria.
The creators of natureSPA, Bophet Inthivong and Lane Labbe, are longtime animal lovers. Bophet hung around elephants and had a pet buffalo when he lived in Laos, and Lane has a menagerie of animals -- including horses, cows, dogs and cats -- at his home. They know our pets don't want to drink dirty water any more than humans do.
Pets will drink more of their water if it's appealing, and drinking more water can help reduce the risk of dehydration and urinary tract infections. With a natureSPA fountain, four-legged friends have easy access to fresh, bubbly water.
About Daily Grommet
Daily Grommet is a highly curated online marketplace and launch platform for products of great utility, style or invention that haven't hit the big-time yet. Daily Grommet seeks out these unique products, carefully tests them, and produces a video review of each one telling the story behind its creation. Daily Grommet is rooted in the philosophy of Citizen Commerce whereby regular people form the commerce experience by suggesting products that reflect their values and interests. Citizen Commerce turns the typical top down retailer approach sideways, encourages global product innovation from small producers, and satisfies the consumer's need to know the stories behind and origins of favorite products. The company was also just named one of the hottest sites of 2013 by Internet Retailer. For more information, visit http://www.DailyGrommet.com.