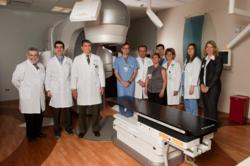 "The launch of Rush Radiosurgery and addition of TrueBeam STx allows us to offer a specialized form of radiation therapy provided by a multidisciplinary team that collaborates to deliver the best possible outcomes for each patient."
CHICAGO (PRWEB) April 18, 2013
Rush Radiosurgery marks its one-year anniversary offering cancer treatment with the TrueBeam STx® radiosurgery system. A clinical service of Rush University Medical Center, Rush Radiosurgery treated more than 200 patients in its first year of operation.
Other highlights for the program include:

Diseases most often treated in the last year are brain, lung and spinal tumors.
Fifty-three percent of patients have travelled from outside of Rush's service area, coming from as far as Indiana, Wisconsin, Michigan, Texas and Florida.
The Rush Radiosurgery physician team earned several honors, including an invitation received by the center's medical director, Dr. Aidnag Diaz, to present research at the annual meeting of the Radiosurgical Society of North America, the publishing of Dr. David Sher's clinical research in the American Journal of Clinical Oncology and the inclusion of Dr. Ross Abrams in Chicago Magazine's "Top Doctors."
"We are so proud of the impact this treatment has had on the lives of patients not only in the Chicago area but across the nation," said Dr. Diaz. "The launch of Rush Radiosurgery and addition of TrueBeam STx allows us to offer a specialized form of radiation therapy provided by a multidisciplinary team that collaborates to deliver the best possible outcomes for each patient."
As the program moves into its second year, physicians who treat patients at Rush Radiosurgery have launched a new initiative aimed at increasing the convenience of the consultation and treatment process. Patients diagnosed with a metastatic brain tumor can now call Dr. Diaz, a radiation oncologist, or Rush Radiosurgery neurosurgeon Dr. Lorenzo Muñoz directly at (312) RUSH-MET (787-4638) to set up appointments or ask questions.
This is particularly important since patients whose cancer has spread to the brain usually live just 12 weeks without treatment. Brain tumors, some of which include brain metastases, are currently Rush Radiosurgery's most frequently treated disease and an area of specialty for the center's doctors.
The new direct line will work together with the Coleman Foundation Comprehensive Brain and Spine Tumor Clinic opened in Fall 2012 to offer patients coordinated care. The clinic, led by Rush Radiosurgery neurosurgeon Dr. John O'Toole and Dr. Diaz, offers patients the opportunity to consult with cancer treatment specialists. The clinic offers patients the full range of treatments for brain and spine tumors including chemotherapy, surgery or stereotactic radiosurgery.
Rush Radiosurgery's advanced technology, TrueBeam STx, offers stereotactic radiosurgery, a noninvasive way of treating tumors and other medical conditions with very precise, high-dose radiation. During treatment, patients lie on a table while the machine rotates around them, aiming radiation beams directly at a tumor site.
The accuracy of TrueBeam STx allows physicians to treat difficult-to-reach tumors or those considered inoperable. The technology contours the radiation beams delivered during treatment to match the three-dimensional shape of a tumor, helping to protect nearby healthy tissue.
The TrueBeam STx treats tumors in one to five procedures that usually take about 15 minutes each. Because the process is noninvasive, patients usually return to normal activities immediately following treatment.
TrueBeam STx is used to treat cancerous and noncancerous tumors in the lung, brain, spine, liver, pancreas, kidney, bone and eye. It can also treat certain types of blood vessel abnormalities, as well as trigeminal neuralgia, a nerve disorder that causes intense facial pain.
Rush Radiosurgery is a clinical service of Rush University Medical Center and is located in the Woman's Board Center for Radiation Therapy on the hospital's main campus. For more information, call 312-942-4600, or toll-free at 888-722-6123.